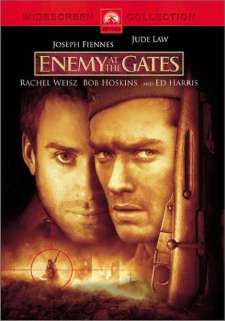 "Enemy at the Gates" on DVD
by Johnny Bray
The only thing more disturbing than watching two countries blow each other to bits during a war, is watching one country shooting its own men for cowardice during a war.
So begins Enemy at the Gates, the latest World War II movie to hit DVD. Only this time, you're not rooting for the Americans, you're rooting for the Russians.
The opening sequence is absolutely fantastic, rivaling that of Saving Private Ryan. Yes, it's gruesome, but that adds to the effect. It displays just how horrible the war was, but not in the politically correct way (thank God). Jean-Jacques Annaud has done an amazing job of directing this movie, right down to the smallest detail. Really, the only part that doesn't feel authentic is the fact that the Russians all have British accents. But that's easily forgivable considering every role was perfectly cast.
Jude Law stars as Vassili Zaitsev, a young sharp-shooter who displays his talents by helping a political officer named Danilov (Joseph Fiennes), and from there is turned into the much-needed hero of the Red Army. Danilov uses the Russian newspaper to elevate Vassili's status, realizing that if they are going to win the war, they need to be given hope.
It isn't long before the Nazis learn of the young hero's skills, and send their best sniper, Major Konig (played Oscar-worthily by Ed Harris) to kill him. From there, the film uses the battle between the two men as a metaphor for the Battle of Stalingrad. This is interesting, considering that the Battle of Stalingrad is used as a metaphor for the war itself. Annaud shoots close-ups of the two actors' eyes, and he seems to have chosen the perfect actors for the job. The tension and emotion displayed in their eyes makes you completely forget you're watching a movie, and you find yourself sitting on the edge of your seat.
Unfortunately, the movie has to throw in a bit of "Hollywoodism," creating a love triangle between Vassili, Danilov, and a beautiful young soldier named Tania (Rachel Weisz). These scenes really slow down the film, and take you away from the parts you really want to see. Other than that, however, the movie is flawless. The sets that were created actually look like a demolished city, the battle scenes are amazing, and Bob Hoskins turns up in a few scenes, masterfully playing Nikita Kruschev.
If you can handle a lot of violence, and you enjoy war movies (even ones that move very slowly at times), this is a masterpiece.
The DVD's picture and sound are top-notch. A movie like this really calls for (and makes damn good use of) the 5.1 surround audio and anamorphic widescreen video (16x9 TV compatible).
Paramount has never been great at including a lot of extras, but they've done a decent job here. Aside from the movie, you get a behind-the-scenes featurette, some cast and crew interviews, a few additional scenes, and the very well done theatrical trailer.
Enemy at the Gates, from Paramount Home Video
131 minutes, anamorphic widescreen (2.35:1) 16x9 enhanced, Dolby Digital 5.1 surround
Starring Joseph Fiennes, Jude Law, Rachel Weisz, Bob Hoskins and Ed Harris
Produced by John D. Schofield
Written by Alain Godard & Jean-Jacques Annaud, Directed by Jean-Jacques Annaud.