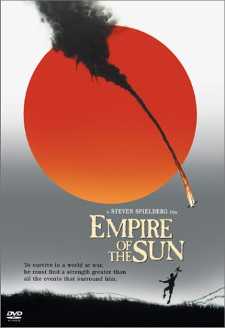 Empire of the Sun on DVD
Kid's Eye View of WWII
Empire of the Sun packs an emotional wallop to anyone with a heart. It's the tale of a bright young British boy (Christian Bale) who, in little more than a heartbeat, goes from a life of privilege to refugee without a home or family.
The film is set in China, and begins just before the country falls to the Japanese. During the panicked scramble to escape the oncoming Japanese army, Jim (Bale) is separated from his mother and father in a scene of pandemonium and despair that would tear at the heartstrings of any parent - or any child who has ever gotten lost.
Of course this is a Steven Spielberg film, and he knows how to play his audience like a violin, so the emotional impact of the film is undoubtedly calculated and pulled off in the grand Spielberg tradition.
Jim eventually surrenders to the Japanese and is sent to an internment camp where he spends most of the remaining years of the war. Here is where he comes of age, going from pampered school boy to worldly survivor as people around him do their best to cope under horrible conditions. People are dying from the squalid living conditions, being beaten by their Japanese captors or, in the case of Jim's American "mentor" (John Malkovich), doing their best to keep living as closely to their usual manner as possible while wheeling and dealing and planning your escape.
There's despair to spare in "Empire of the Sun," almost right up to the closing scene where lost children and parents look each other over to see if, by chance, their loved ones have survived and been located again after the long nightmare.
Yet it's also uplifting. Jim never loses his cool, never loses his love for airplanes (even if they're being flown by people who want to kill him), and never loses his sense of wonder and his feelings of solidarity with those to whom he's close.
This is Spielberg at his epic best, and it's a shame the film didn't do better at the box office. It deserves to be viewed as an integral part of his looks at World War II (1941 excepted, perhaps) that also include Saving Private Ryan and Schindler's List - movies that also deal with the horrors of war against the backdrop of humanity transcending the death and destruction around them.
The movie making is grand, with plenty of wide, sweeping shots and voluptuous production values, the John Williams score is typically superb, and the performances are uniformly excellent - especially Bale as the young Jim.
Suffice it to say that it's obvious that one of Steven Spielberg's major inspirations was David Lean and his glorious epics like Lawrence of Arabia, and that inspiration is stamped all over "Empire of the Sun." Many of the shots are absolutely gorgeous and the whole experience adds up to a really terrific movie.
Perhaps Empire of the Sun was a financial disappointment because it came during a period of Spielberg's career when he was trying to be taken seriously as a director, over the objections of a Hollywood and media who prefer the easier route of pigeonholing.
The DVD is no slouch, either. It's presented in an all new digitally transferred anamorphic widescreen video (16x9 TV compatible) and the video quality is excellent. The audio has been remixed into Dolby Digital 5.1 and it is also superb; there isn't a lot of surround, but when there is (airplanes and explosions, for example) it's used very well.
The main extra, which is on the second side of the disc, is a behind the scenes documentary "The China Odyssey: Empire of the Sun, a film by Steven Spielberg." It's well worth watching.
You also get the theatrical trailer.
Empire of the Sun, from Warner Home Video
152 min. anamorphic widescreen (1.85:1), 16x9 TV compatible, Dolby Digital 5.1
Starring Christian Bale, John Malkovich, Miranda Richardson, Nigel Havers
Produced by Steven Spielberg Kathleen Kennedy Frank Marshall
Written by Tom Stoppard, Directed by Steven Spielberg.