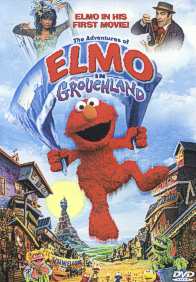 "The Adventures of Elmo in Grouchland" on DVD
Toddler Terrific
Pre-schoolers are sure to get a kick out of Elmo and his Sesame Street buddies as they take a trip down Oscar's garbage can and into the world of the Grouches.
"Elmo's Adventure" sees the Muppet chasing down his lost blanket, which accidentally wafted down that garbage can. Once he's in "the underworld," he runs afoul of the evil (well, not too evil) Huxley (Mandy Patinkin).
Elmo's heart is good, however, and he gains allies in Grouchland, including the lovely Queen of Trash (no, it isn't Madonna, it's Vanessa Williams!) who sings one of the movie's best songs and helps him on his way.
The film brings together onto the big screen (well, as big as your TV is) all the Sesame Street regulars, from Bob McGrath to Grover and the Cookie Monster. It's a good story for toddlers, and when the action looks as if it might get a bit too much for the wee folk, up pop Bert and Ernie to interrupt things and remind the ankle biters that, after all, it's only a movie.
In all, it's a film the age bracket at which it's aimed will probably want to watch over and over and over and over and over again, and thanks to the DVD release you can indulge the kids forever without worrying about dropouts and other deterioration. The kids'll grow out of Elmo before the disc wears out!
The DVD is only presented in Pan and Scan, though it doesn't look very panned or scanned - and while we prefer widescreen releases in this instance it's probably the right decision to have made. Better the kids sit down and quietly watch Elmo rather than popping up and asking Mom and/or Dad embarrassing questions like "Why are those black bars on the screen? What happened to all the picture?"
Audio is Dolby 5.1 surround and the audio/video quality are very good. You don't get a lot of extras, just some theatrical trailers, chapter stops, some cast info and a short promo for the film. There's also a quick introduction by Elmo and his new friend Bug. Liner notes are virtually non-existent, but your kids won't care.
The Adventures of Elmo in Grouchland, from Columbia Tristar Home Video
approx. 73 minutes, fullscreen, Dolby Digital
Starring the Sesame Street Gang, Mandy Patinkin, Vanessa Williams
Produced by Alex Rockwell, Marjorie Kalins, Written by Mitchell Kriegman and Joseph Mazzarino
Directed by Gary Halvorson