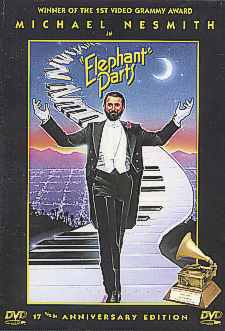 "Elephant Parts" on DVD
by Jim Bray
Michael Nesmith's "Elephant Parts" was billed as the first made-for-home-video production and when it was first released in 1981 it was definitely innovative and state-of-the-art.
Seventeen point five years later, it holds up quite well on DVD, and if you liked it way back when, you'll find it a warm and wonderful walk down video memory lane.
Elephant Parts is an hour-long (well, 62 minutes) collection of skits and music videos starring, executive produced and co-written by former Monkee Michael Nesmith, the guy who wore the woolen toque and who was arguably the most talented musician of that 1960's TV-created quartet.
The show is funny and irreverent and the songs are enjoyably played and shot.
One thing Elephant Parts is not is politically correct, and that's another reason to like it. I daresay if it were shot today, there'd be picket lines set up over such bits as "Elvis Drugs," "Name that Drug" (a game show in which contestants are required to smoke a joint and tell what type of illicit weed it is) and "battered wife." Too bad; too many of us are afraid to laugh at such stuff today…
"E.P" (as opposed to "ET") appears to have been a pretty low budget effort, but they did a really good job of maximizing their bang per buck quotient. The cast are all virtually unknown (I still haven't heard of them), director/co-writer William Dear was near the beginning of his Hollywood career (he went on to helm "Harry and the Hendersons" and other cinematic fare), and the video effects used look positively cheap by today's flashy digital standards.
Still, none of that stuff is important and "Elephant" is greater than the sum of its Parts.
The packaging claims there's no regional coding or copy protection on the disc. I didn't test this, but must applaud DVD International for taking this brave, and welcome, step.
DVD International also says it went back to the original source material for the mastering of this disc, and it's a good thing. Picture and sound quality are good, but not up to the standards one expects from big budget Hollywood film conversions. That doesn't really work against this disc, though.
A pile of extras has also been included on the DVD, including an alternate audio track in which Nesmith expounds on, well, I'm not sure. Seems as if Mike's having a bit of fun with the DVD medium's capabilities. There's also a section that includes photos, a bio of Nesmith, press clippings, discography, etc. etc. Some of this stuff is in really small type, however, and extremely difficult to read.
I didn't really care about the extras, though; I was a fan of Elephant Parts from its first release, and found the DVD like a visit with an old friend.
Try it; you just may like it.
Michael Nesmith in Elephant Parts, from DVD International
62 minutes, full screen, Dolby Digital Stereo, no regional coding or copy protection
Starring Michael Nesmith
Written by Michael Nesmith, William Dear and Bill Martin Executive Producer Michael Nesmith, Produced by Kathryn Nesmith
Directed by William Dear