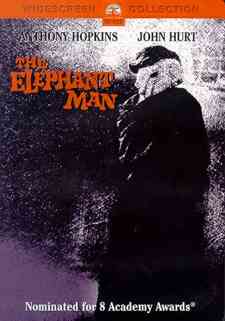 The Elephant Man on DVD
The movie that made the name David Lynch - let alone John Merrick - a household name is a marvelously moving picture, and a credit to Paramount's DVD inventory.
Lynch was chosen to direct the Elephant Man on the strength of his ultra-weird (but interesting) Eraserhead. He turns out to have been an excellent choice; his penchant for the strange coupled with the subject matter and outstanding black-and-white production design have given us a period piece masterpiece, period.
John Hurt is superb as Merrick, the human being so horribly afflicted with more than one disfiguring (and ultimately fatal) conditions that make him so grotesque that, at film's opening, his only life is that of a sideshow freak.
Then a dedicated surgeon/lecturer (marvelously played by Anthony Hopkins) comes across him, is moved by his plight, and takes it upon himself to try offering this man a better life with some shreds of dignity.
Naturally, it doesn't all work out as planned, and some people still preferred to ogle Merrick more as a curiosity - or meal ticket - than as a man, but on the whole the good Doctor succeeds and Merrick's last days do give him some semblance of a real life.
The supporting cast, including John Gielgud, Wendy Hiller, Anne Bancroft, and Freddie Jones, is outstanding. Likewise, the B&W widescreen cinematography lends a horror movie-like atmosphere to what is at all times an extremely horrible and atmospheric piece.
The Elephant Man was nominated for something like eight Oscars, though it didn't win any. It should have. It's a remarkable story and a remarkable movie.
Paramount has done the DVD justice, for the most part at least, with a package that goes beyond their usual sparse offerings. The film is presented in its original anamorphic widescreen presentation, 16x9 TV compatible, with remixed Dolby Digital 5.1 surround audio (the original Dolby Surround is also available). Picture quality is wonderful for a black and white flick and the audio, while not really up to today's standards, is still very good.
Paramount has thrown in some extras, too, and that's a welcome sight. First there's a half hour retrospective documentary featuring everyone from Mel Brooks (executive producer) to Freddie Francis (cinematographer), Christopher Tucker (makeup), and John Hurt. There's also a separate interview with Tucker, a narrated photo gallery, and the theatrical trailer.
Not a lot of extras, perhaps, compared with some "special edition" DVD's, but more than Paramount usually includes - and a quality selection (and we'd rather have quality than quantity any day).
One strange thing about this DVD is that it has no chapter stops, so you can't skip forward through it easily. This is a pain in the neck if you have to stop the disc and go back later unless you have the opportunity to use the player's feature that lets you pick up where you left off after pressing "Stop" once. This only works if you don't leave it for too long (in models that automatically power down) or if you don't eject the disc.
The Elephant Man, from Paramount Home Video
123 min. Black and White, anamorphic widescreen (2.35:1), 16x9 TV compatible, Dolby Digital 5.1
Starring Anthony Hopkins, John Hurt, John Gielgud, Anne Bancroft, Freddie Jones, Wendy Hiller
Produced by Jonathan Sanger, Directed by David Lynch