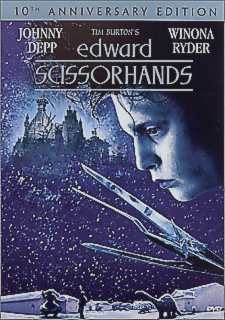 "Edward Scissorhands" on DVD
Burton's Suburban Fairy Tale
Tim Burton's "Edward Scissorhands" is a modern fable about a young "man" who finds life and love, then has the cup dashed from his hand because he's different from other people.
Edward (Johnny Depp) lives in an old castle just down the street from suburbia USA. He's discovered living there alone by the area Avon lady (Dianne Wiest), who brings him home to live with her family. Edward is shy and charming, and has hidden talents he displays as the story unfolds, but his inventor never quite got him finished - so for some reason he has sharp blades in place of human hands.
This "handicap" sets him apart from mainstream society, making him a charming diversion to the neighborhood.
His uniqueness makes him a target - or recipient - of the advances of the neighbors, from the bored and horny housewife to the young daughter (Winona Ryder) into whose house and life he has been thrust.
Unfortunately, his presence also leads to healthy doses of jealousy and this proves to be the undoing of his new and idyllic existence. Edward once again becomes an outcast and retreats to his home of old, never more to mingle with the pastel people nearby.
Tim Burton has crafted a marvelous fantasy in "Edward Scissorhands." The film's pastel-colored neighborhood looks wonderfully surreal, with Edward's black and white world standing in stark contrast to it. You really root for Depp's Edward, and you laugh and cry with the movie all the way.
All of the characters are larger than life, with the possible exception of Depp - who's terrific as Edward, the one character who you'd think would be larger than life. Dianne Wiest plays her "mothering" role to perfection, as does Alan Arkin as her preoccupied husband. Winona Ryder is perfectly cast and is vulnerable, rebellious, and sexy-without-being-sexual all at the same time.
The DVD is presented in widescreen, with Dolby Digital audio and it looks and sounds terrific. Extras include an audio commentary track by director Burton and often-collaborator and composer Danny Elfman. There's also a featurette on the production, a selection of conceptual art from the film, TV commercials and the trailer.
A marvelous film!
Edward Scissorhands, from 20th Century Fox Home Video
105 minutes, Widescreen (1.85:1), Dolby Digital
Starring Johnny Depp, Winona Ryder, Dianne Wiest, Anthony Michael Hall, Kathy Baker, Alan Arkin, and Vincent Price
Produced by Denise Di Novi and Tim Burton
Written by Caroline Thompson, Directed by Tim Burton