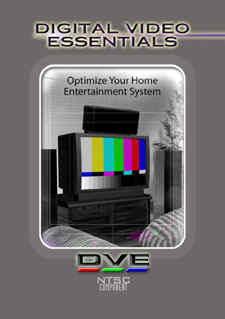 The Digital Video Essentials DVD
It's here... it's here! And it was worth the wait!
After much anticipation and hype that a new Video Essentials DVD by electronics guru Joe Kane was to be released, we could hardly wait. Scant weeks before the new DVD's release Mr. Kane indicated to Technofile that he'd been spending most of the hours in each day getting the finishing touches done to the disc. Such attention to detail is always welcome, and in this case, it shows.
When the new DVE was dropped off at our office by our friendly courier (well, it was courier, anyway) we could no longer contain ourselves.
Why? 'Cause we take our home theater seriously, and so does Joe Kane - and while it was flawed (mostly due to being made before there were such things as DVD's), the original Video Essentials was still the best tool for tweaking your home theater.
And since the last Video Essentials release there have been other test DVDs, such as the Avia disc. Even Video and Sound magazine came out with one. Each supposedly upped the ante as the latest and greatest test disc to have.
Yet we always liked the way Video Essentials was able to convey technical information to the novice. It was always done in a friendly, non-intimidating manner. We also liked the video footage montages designed to give you an instant review of your handiwork after you've adjusted your TV.
Now that DVD, HDTV, and anamorphic widescreen 16:9 has arrived it was time to update Video Essentials. The result is the new "Digital Video Essentials" disc, and it's a doozie, armed with the latest advances in technology - and shot in high definition (though the DVD, of course, isn't HD).
The disc's navigation still takes a little getting used to, and still isn't as good as it could be (but it's a lot better than the original VE!) but once you figure it out it's fairly easy to find your way around. The key is to enter the Program Guide Menu and to highlight the "arrow" next to the "return" icon to move forward to the correct chapter point.
Once there you'll find a myriad of selections that cover a range of topics including: DVE Introduction (which sets the scene for you), Room Environment, A/V equipment, and Digital Video. There is even a section on DVD navigation and how to use it effectively, which as hinted at above can be handy.
All in all, there's some great background on how to set up your system in your room, what types of rooms are best, types of speakers, the difference between analog and digital television, etc. So it's not only an excellent disc for setting up your system, it's a great primer on what it takes to build a good home theater.
There's also a section on how to use a sound level meter for fine tuning a surround sound system.
And of course there are countless test tones and video signals, enough to make your head spin.
It's undoubtedly the video section that will sell this disc. It's divided into the sub-categories "Basic Calibration," "Troubleshooting," "Advanced Calibration," and "Video Systems Details." Using step by step instructions, it walks you through the numerous video test patterns used to optimize your TV via such parameters as black level, flesh tones, color, sharpness, etc. There's more heavy duty stuff as well; for instance you can use its patterns to check out your TV's geometry, but such adjustments aren't for the amateur or the faint of heart.
We noticed that this time around, the color and hue adjust pattern rigmarole is more intuitive than on the original disc, taking much of the guesswork out of the process. It's more uniform and allows for an easy adjustment that can show up dramatic differences in the picture quality, even when you've only made small adjustments.
We also liked the binding of all the color filters that are included in the box into one housing. There's less chance of losing a filter along the way.
By the way, that's also an improvement over the original "VE," which only had one filter.
And this time around there are some welcome updates on the test tones and patterns as well. There's more stuff than you can shake a stick at!
All the audio adjustments offer a nice test tone length, giving you ample time to make any necessary level adjustments for the various channels. This is particularly handy if, like some, your audio system inflicts a slight delay on the audio stream.
And the "Buzz and Rattle" test will reveal how much your room interacts with the lower frequencies, which in many home theaters can be a real annoyance. The test is given to all the speakers in a surround system and is a good way to tell if, for example, your fireplace glass doors are rattling, or if picture frames are dancing on top of your speakers.
This test may convince the spouse to give you that permission you were looking for to do some "room deadening."
Again Digital Video Essentials offers some stunning pictures in the Montage section. Plenty of vibrant colors and fine detail to test any TV set's abilities. Use it once you've done your adjustments (or for "before and after" comparisons, or to check your "work in progress") to test the results without having to remove the disc and find another of your favorite DVD's to test. It truly gives you a look at what an optimized picture should look like.
There's some other great eye candy, too! Near the beginning of the disc you're treated to a stunning scene of the Space Shuttle on the liftoff pad - in fine detail. And the animated roller coaster ride will induce vertigo on large screens. Fasten your seats on that one!
And if you aren't yet convinced aurant scene, in both aspect ratios, is used.
The disc is presented in 1.78:1 anamorphic widescreen, which in this day and age is exactly how it should be. Picture quality, not surprisingly, is excellent - we would expect no less from a disc such as this, and DVE delivers.
Audio is also excellent, and it'll work with analog Dolby Digital 2.0 surround systems, Dolby Digital EX 6.1 and dts-ES equipped systems. We've been resisting the move to 6.1/7.1 (where will it all end?!), and so tested the disc using our 5.1 home theaters.
We were not disappointed. The audio tests are very effective, and the sound quality is excellent.
DVE is a disc that no one who's serious about home theater should be without. It is, quite simply, a necessary tool for any home theater system. Not only will it allow you to set up your equipment properly, it also teaches you what you should know about it in the first place.
It'll also give you a leg up on questions to ask if you decide to call in a professional to "super tweak" such things as grayscale or the geometry on your prized television monitor.
DVE also offers different versions on the disc - and dare we say "tape". The English language disc is offered in both PAL and NTSC standard definition signals and since the DVD is "0" region coded, it is theoretically will play on any DVD system worldwide.
It's also available on DVHS tape (digital video home system) mastered in 720p and 1080i HDTV systems.
In our view DVE has accomplished its mission extremely well and has once again made Joe Kane's work the benchmark. It truly lets you exploit your home theater to its best advantage, and isn't that what it's all about?