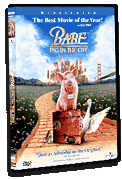 "Babe - Pig in the City
As its title suggests, George Miller's sequel to his surprise hit "Babe" takes the porcine shepherd to the big city to put on a demonstration of his mutton-moving prowess.
Babe, and the farmer's wife, do make it to the city, but circumstances prevent them from attending the show. Instead, they are separated and left to their own devices, forced to sink or swim in the city's alien environment. The plot follows Babe, with farmer Hoggett's wife (indeed, all of the human actors) relegated to a supporting role.
And this is fine: it's the pig's story anyway and the filmmakers have a lot of movie magic up their sleeves to amaze the audience.
Along the way, the pig changes the lives (and the society) of the creatures with which he comes into contact, leading to a happy ending that saves his home and the lives and ways of life of innumerable creatures great and small.
Okay, that's a pretty simplistic overview of the plot, but we don't want to ruin what story there is for you.
As a movie, "B-PITC" doesn't come close to recreating the original's feel. In fact, for the first half hour of the film, we found ourselves restlessly hoping the movie would end soon. About the time Babe saves the life of a drowning dog, however, the film kicks into gear and the remaining hour is far more enjoyable - though the story peters out before the credits roll, deteriorating into mindless (though pretty looking) slapstick.
Not that we don't like slapstick, mind you, but there's a part of this movie (in which Babe becomes the de facto "Godfather" to the collected menagerie), that shows a lot of potential and it's a shame the potential isn't met.
While the story leaves something to be desired (the whole "saving the farm" motif is contrived and the story would work just as well if Babe merely went to the city for the exhibition anyway, then got lost), "B-PITC" is worth catching because of its outstanding technical wizardry.
According to the production notes accompanying the DVD, some 799 animals were used in the production and it's amazing how director Miller (who brought us the "Mad Max" trilogy, among other things) has gotten these critters to act. We kid you not: these animals deserve some kind of award for their performances, in which they're actually playing out human roles in animal bodies. They have an entire society and "pecking order" (no pun intended) into which the introduction of Babe throws a very large monkeywrench (put intended).
Is there an Academy Award for best performance by a Beast?
"Urban Shepherd's" fantasy setting (everything is stylized, and visually stunning) is beautifully realized through great sets and sound and a lovely use of digital effects. Special effects also make the animals talk, with realistically moving mouths (or beaks, or whatever!). The animals' voices are also cast and performed flawlessly.
One cannot fault this film's production values. In fact, while waiting for the story, we found ourselves constantly asking ourselves "How did they pull this off?" It's too bad the script doesn't match the artistry of the rest of the film.
As a DVD, "Babe, Pig in the City" is an above average example. Picture and Dolby Digital audio are outstanding. Liner notes are minimal, but this is offset by a generous set of production notes on the disc itself. Once you get through the ponderous animated menus, you'll also find chapter stops, a decent set of cast & filmmaker bios/filmographies and a pair of trailers for this film and one for the original "Babe." If you have a DVD-ROM drive, you can even set up a "Babe" screen saver, though we resisted the temptation.
A real plus is that the movie is offered in both widescreen and pan and scan versions, on the same side of the disc. This is a feature we wish would be available on every DVD (though we can live with one version per side, too, as long as they're legibly labelled). You choose which version to watch from the onscreen menu. As usual, we prefer widescreen, which shows the movie in the way the director envisioned it, but it's nice to see audiences given the choice to embrace or eschew those black bars at the top and bottom of the screen.
So as much as "Babe, Pig in the City" may not live up to its hype or its potential, it's well worth seeing anyway - as an example of Hollywood (well, Sydney, Australia) ingenuity.
Babe - Pig in the City, from Universal Home Video
95 minutes, color, in widescreen and "full screen" formats
Starring Babe and a "Noah's Ark" cast, along with Magda Szubanski, MIckey Rooney and James Cromwell
Produced by George Miller, Doug Mitchell, Bill Milled, written by George Miller, Judy Morris, Mark Lamprell,
Directed by George Miller
"Paulie"
DreamWorks' "Paulie" is a Blue-crowned conure who gets the starring role in a flick that's part "road movie" with a healthy dose of Michigan J. Frog (the singing frog of "Looney Tunes" fame) thrown in for good measure.
Paulie not only talks (his voice is provided by actor Jay Mohr), he makes sense - but he also chooses when and to whom he's going to talk. And, like so many of us, he has a problem with his beak getting him into trouble when he mouths off at the wrong time.
The movie is mostly a flashback that tells the story of how the parrot got to where he is "today." It begins with Paulie being discovered in a research institution - and telling his life's story to the one person who gives him any positive attention.
Paulie recounts his life from the time he was living happily with a little girl named Marie, from whom he's separated against both their wills. His life flies through one adventure after another as he searches for the lost Marie, and along the way he manages to touch the lives of many humans he meets (including Gena Rowlands, Tony Shalhoub, Cheech Marin, and others) - and being touched by theirs. He finally gets taken back to where he and Marie once lived, but of course the family has moved on... to the other side of the country.
So da boid takes off on his Cross-America trek. Naturally, he finally meets Marie again, but not before a lot of time has passed and water has gone under the bridge.
The DVD is presented in both widescreen and pan and scan versions, which is as it should be. Unfortunately, the labelling around the spindle is very small and hard to read; it would have been better to put "widescreen" in one color and "Full Frame" in another, but such is not the case.
Liner notes aren't bad: the inner sleeve has a short production feature about the film's genesis, and you also get a list of the 16 chapters on the disc. That's about it for extras, though, besides fairly minimal production notes and the theatrical trailer/cast/crew bios we've come to expect.
Picture quality is excellent, and the Dolby Digital sound is first rate as well. We'd like to see more extras, but what can you do?
"Paulie" isn't likely to go down in history as a classic, but it's good family entertainment and that's unusual in this day and age. In fact, though on the surface the concept sounds pretty trite, the movie goes beyond that formula and is actually a pretty good flick, all things considered.
Paulie, from DreamWorks Home Video
92 minutes, color, in widescreen and "full screen" formats
Starring Gena Rowlands, "Paulie," Tony Shalhoub, Cheech Marin
Produced by Mark Gordon, Gary Levinson, Allison Lyon Segan
Written by Laurie Craig, Directed by John Roberts
"Temptations" on DVD
Rhythm, Lots of Blues
"The Temptations" is the DVD release of an NBC miniseries "docudrama" about the careers of Motown's top-rated guy group, The Temptations. Director Alan Arkush, writers Robert Johnson and Kevin Arcadie, along with the energetic and likeable cast, have done a really good job of letting the audience get to know the people behind the PR. assuming this is an accurate portrayal.
The story is based on the book "Temptations" by Otis Williams (via writer Patricia Romanowski), so perhaps it isn't surprising that Williams, who according to the movie founded the group, is treated with kid gloves. Most of the group is treated that way, however, with the possible exception of lead singer David Ruffin (who's portrayed as a dark figure who never saw a white line he didn't like).
Don't get us wrong; this isn't a whitewash of the Temptations' story. It actually comes off as an honest and sometimes loving portrait of this supergroup, yet one that isn't afraid to show the warts. In fact, by the time you're finished the approximately three hours of this film, you're amazed that the group even survived the trials and tribulations its individual members endured.
"The Temptations" takes you through the entire history of the the group, from Otis Williams' perspective, beginning in his high school days and ending with the death of his longtime bud and bass singer Melvin Franklin. It's lovingly made, and captures the eras it covers very well. Performances, including the necessary lip synching, are first rate, as are the costumes, sets, sound, etc. They've also done a terrific job of recreating the periods through which the film moves, as well as many of the group's most famous songs. The scene depicting the group recording "Papa Was A Rolling Stone" (gee, that Jagger fellow gets around!) is remarkablly well done; it not only gives you an excellent cover of the song, it advances the plot at the same time.
The "full screen" picture quality is great, though you can forget about any real Dolby Digital surround sound. The DVD package claims Dolby Surround, and I suppose it is to a certain extent, but there's little if any center channel information and even less surround. That said, however, the overall audio quality is terrific and the songs sound very good indeed.
Disc extras are virtually non-existent beyond chapter stops (and, thoughtfully, direct links to the songs) and some liner notes, so this is definitely not a real collector's item.
We didn't go into this as Temptations fans - and probably still aren't, though we like some of their songs. This is a very enjoyable film, however, and we recommend it highly. It's energetic and makes a wonderful time capsule of the 1960's/70's Motown scene. It's also very musical, and features great human drama.
'The Temptations," From Artisan Entertainment
Full screen, approximately 180 minutes
Starring Terron Brooks, Christian Payton, Charles Malik Whitfield, DB Woodside, Obba Babatunde, Jenifer Lewis, Alan Rosenberg, and Leon
Produced by Jay Benson, Teleplay by Robert Johnson and Kevin Arcadie, from the book "Temptations" by Otis Williams with Patricia Romanowski
Directed by Alan Arkush