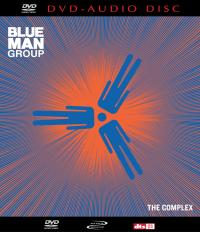 Blue Man Group – The Complex – on DVD Audio
If you can get past what may be the worst DVD menu ever designed, you'll find a strangely compelling disc that offers a few memorable tunes and some really nice surround sound mixing.
I first saw Blue Man Group when they initially appeared on the Tonight Show many years ago. The only thing I remember from that performance, other than the blue men themselves, was them injesting and regurgitating what looked like Play Doh. I have no idea what their act was like other than that.
But apparently they're a music act, otherwise why would there be a first album, let alone this second one?
Anyway, this obviously doesn't qualify me as a BMG aficionado, but as a music fan and audiophile, what can you do when a disc such as this shows up other than review it?
BMG seems to be mostly about percussion, not that there's anything wrong with that. And their music is well suited to the 5.1 surround mix made possible by the DVD Audio and dts tracks on this disc.
Some of the tracks feature guest vocalists. In fact, my favorite track from "the Complex" is Sing Along, which features Dave Matthews. It's a tad repetitive, but it's also catchy and hummable and features some nifty audio tricks from the Group's dudes.
Tracy Bonham, Esthero, Josh Haden, Gavin Rossdate, Arone Dyer and Peter Moore also appear on the album.
On the other hand, I never thought I'd pine for Jefferson Airplane but I did after hearing the BMG/Esthero version of the classic White Rabbit. Still, to each his own.
The audio quality is excellent, and they arrange instruments (or whatever they happen to be using at the time) around the room very well, surrounding and immersing you in the sound.
But that menu! It works fine when you play the disc on a PC, where you can just use your mouse to point and click, but on both of our reference DVD players the disc seemed programmed to make the cursor control keys on the remote seem practically random. I found it extremely frustrating, almost enough to not play the disc!
The are plenty of extras on this disc, including a pretty sophisticated audio/speaker setup routine.
You also get music videos, for the abovementioned "Sing Along" as well as Exhibit 13 and there's a "making of" track that offers some interesting insight into the Blue Man Group itself as well as the album, and you also get a drum breakdown and listing of lyrics.
Not really my cup of tea, but an interesting disc nonetheless and a good introduction to the quality and features of the DVD Audio format (except for that horrible menu!).
Here's dts' listing of the disc's features:
• DVD-Audio title includes Surround Re-mixes of all 14 tracks
• DVD-A surround & stereo, plus dts for DVD-Video players
• "Behind the scenes" interviews and tour footage
• Music video of Sing Along featuring Dave Matthews
• Music video of Exhibit 13 a powerful 9/11 tribute song
• Special "Mix Breakdown" track- Your Attention
• On-screen biography and photo gallery
Audio Options: 5.1 MLP for DVD-Audio Players; 5.1 dts for dts-Capable systems; 2.0 PCM for all DVD-Video players
Track listing:
1. Above
2. Time To Start
3. Sing Along
4. Up To The Roof
5. Your Attention
6. Persona
7. Piano Smasher
8. White Rabbit
9. The Current
10. Shadows
11. What Is Rock
12. The Complex
13. I Feel Love
14. Exhibit 13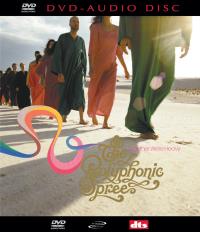 The Polyphonic Spree – Together We're Heavy - on DVD Audio
I had never heard of the Polyphonic Spree before dts sent us this disc, but I'm glad I've had a chance to experience them. Remember "Up With People?" Though there isn't a lot of similarities between the music of that upbeat youth choir of old, this album gives that same happy, positive feel I used to get when UWP visited my high school periodically when I was a nipper.
This Dallas group contains two dozen members and their sound reminds me of a blend between the 1960's and '70's art rock bands and pop bands from the same era. Together We're Heavy simply oozes fun and creativity and over the course of the album you'll hear influences of a wide range of bands who came before. I was reminded of old Beatles and psychedelic Beatles, ELO, Beach Boys and a lot of other stuff I just couldn't put my finger on, but which left this child of 60's and '70' rock feeling as if I were in somehow familiar territory.
Yet their sound is their own, which is as it should be. Even though I found parts quite repetitive and even somewhat pretentious, something about this album grabbed me and kept my toes tapping and a smile on my face. I'd consider that a success….
I found some of the music quite inspirational as well, almost in the manner of some of Garth Brooks' older stuff. Section 14 (Two Thousand Places), for example, includes the interesting observation that "you gotta be good, you gotta be strong, you gotta be two thousand places at once," which certainly sounds like my life (except for being good and strong!). Other good tracks include Section 12 (Hold Me Now), which is quite Klaatu-ish,
Several of the songs contain longish instrumental sections that include vocals that appear periodically repeating the chorus almost ad nauseam. The music is really good, but sometimes it does get a tad repetitious.
The whole album ebbs and flows in a manner that comes across as a kind of unified rock symphony, with themes and musical cues that repeat throughout it. The writing isn't in the league of the giants mentioned above, but since (I think) this is still early in the band's history so who knows what's in store in the future?
In the end, this is a very interesting album and an interesting concept. And I defy you to listen to it without it making you feel good. We need more of that today!
I'm intrigued. Let's see what these folks do next. I have a feeling we're witnessing what could become a great band that currently is learning to flex its musical muscles. I look forward to their next offering.
The production is lush and the recording quality is very good, though I was a tad disappointed that it didn't positively leap out of the home theater speakers. The surround mix is very nice, however, spreading instruments around the room very nicely and with few gimmicky effects.
Audio Options: 5.1 MLP for DVD-Audio Players; 5.1 DTS for DTS-Capable systems; 2.0 PCM for all DVD-Video players
Here's the track listing:
1. Section 11 (A Long Day Continues/We Sound...)
2. Section 12 (Hold Me Now)
3. Section 13 (Diamonds/Mild Devotion To...)
4. Section 14 (Two Thousand Places)
5. Section 15 (Ensure Your Continues/We Sound...)
6. Section 16 (One Man Show)
7. Section 17 (Suitcase Calling)
8. Section 18 (Everything Starts At The Seam)
9. Section 19 (When The Fool Becomes A King)
10. Section 20 (Together We're Heavy)
Extras include videos (one live action and one animated) for Light and Day (which is a song not on this album otherwise, but which is actually a pretty decent introduction to the band and its music), as well as a text bio and photo gallery. You also get mix breakdowns of two songs.
I have a feeling that the Polyphonic Spree may not be for everyone in this jaded world in which we live, but it's certainly worth a listen.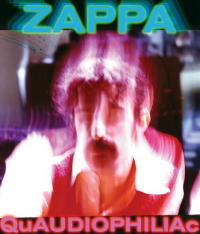 Frank Zappa – QuAUDIOPHILIAC on DVD Audio
Okay, I'll admit it up front: I was never a Zappa fan. While FZ was pioneering his style I was immersed in Townshend, Floyd, ELP and the like. I enjoyed his sense of humor as evidenced by his album titles and covers (Sheik Yerbouti was my fave) and I fondly remember Dancing Fool from his appearance on Saturday Night Live.
The previous dts Zappa release of his Halloween concert was pretty good, but until QuAUDIOPHILIAC I had never really experienced Zappa in the studio and now that I have it has given me a grudging respect for the man's music.
This is symphonic rock. Not Rock Opera such as Tommy or Quadrophenia, but more classically-based in its instruments and its tone, but with a rock beat and rock instruments augmenting the more conventional orchestral stuff.
The disc also shows just what an innovator Zappa was. It features four channel quadraphonic mixes back from the age where quad was trying to gain a foothold. I loved quad and had a good quad setup back then, but the format died out until recent advances in digital technology made it possible to offer true four channel audio (with the center channel and subwoofer of today's 5.1 digital surround added to the mix) the way it could never have been experienced back then.
Apparently, this album was conceived when Zappa's son Dweezil came across a bunch of these old four channel tapes, and today's digital surround sound technology disc means these old cuts can now be listened to in their original glory.
And it is glorious. Despite the age of the material, the recording quality is excellent and the surround mix is outstanding as well. It isn't as if Zappa throws a bunch of surround effects at you, but rather that he uses the multi-channel platform to capture a liveness of the performances that translates very well to the home theater.
QuAUDIOPHILIAc includes previously unreleased songs, some live and some recorded in the studio, including "Rollo" and "Venusian Time Bandits," and Dweezil has also thrown in some experimental multi-channel tracks from Zappa's basement.
Here's a listing of the tracks:
1. Naval Aviation in Art?
2. Lumpy Gravy
3. Rollo
4. Drooling Midrange Accountants on Easter Hay
5. Wild Love
6. Ship Ahoy
7. Chunga Basement
8. Venusian Time Bandits
9. Waka/Jawaka
10. Basement Music #2
The disc also includes an abundance of extras, including:
- Special "Surround Pioneer" presentation from the 2003 SurroundPro Awards ceremony, including video of Frank Zappa discussing advanced surround playback
- On-screen notes by Dweezil Zappa
- Complete visual discography and special photo gallery
- Frank Zappa's 1983 Music Industry Proposal for downloadable music (how's that for being ahead of the curve?)
Audio Options: 5.1 MLP for DVD-Audio Players; 5.1 dts for dts-Capable systems; 2.0 PCM for all DVD-Video players