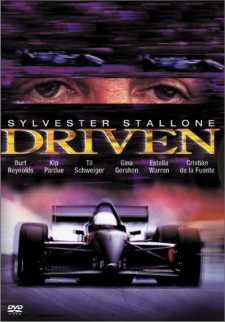 Driven on DVD
Driven Around the Bend..
by Jim Bray
Sylvester Stallone reteams with Renny Harlin ("Cliffhanger") in this look at the life of Champ car drivers of the CART racing series.
I wish they hadn't.
I'm a big fan of CART racing. I love the open wheeled excitement, the speed of the fastest motor racing series on earth, and all that. I've been following the series for many years and rarely miss a race.
I wish I'd missed "Driven." It's an excruciating movie that, while priding itself on how well it brings the Champ cars to the silver screen, throws out every rule in the book and turns this classic racing series into nothing more than a superficial caricature of what it really is.
And the digital cars often look like digital cars.
Stallone plays Joe Tanto, a retired veteran of the series who's brought back by the team owner (Burt Reynolds) to mentor a young, up and coming star Jimmy Bly (Kip Pardue). In the process he displaces Memo Moreno (Cristián de la Fuente) and angers his ex-wife (Gina Gershon), who's now married to Memo.
Memo-rable so far? Sounds like a soap opera, doesn't it?
Then there's DeMille Bly (Robert Sean Leonard), Jimmy's driven brother who wasn't good enough to hold a driving candle to Jimmy and so who has decided to run Jimmy's life instead. He's Jimmy's manager, but he's also an obnoxious pain in the rear end and everyone knows it except Jimmy.
Talk about stereotypes! You have just about every Hollywood stereotype in this movie, including a fight over a girl - coupled with a bunch of racing stereotypes like the wheelchair-bound and ruthless team owner and egotistical, ruthless World Champion (shades of Frank Williams and Michael Schumacher - who have nothing to do with CART).
Oh, sure, you get to see some of the real cars and drivers, and Chip Ganassi has a few lines playing himself, owner of a Champ car team, and that's really great to see. But it isn't enough.
Driven opens quite well, as we get a few shots from some of the races in the series. There's Miami (where they no longer race), Long Beach, Australia, Mexico (though they'd never raced there yet when Driven was made), Rio. But once this opening sequence is over those tracks never reappear. Instead we're treated to a bastardized version of the series where the races are all out of order (not necessarily bad, though there seems no reason for it) and at least one of the races (in Germany, on a road course as opposed to the real German oval debuted this season) is totally fictitious.
Okay, one doesn't expect Hollywood to be completely accurate, but you'd think they would have known a big part of their audience would be CART fans and not gone out of their way to alienate them.
Then there's the requisite love interest. Estella Warren plays the decorative one, tossed aside by Schumacher (er, sorry, Beau Brandenburg) and who rebounds to Jimmy Bly (setting up the obvious confrontation between the two alpha males and leading to a ridiculous chase in Champ car prototypes through the streets of Chicago). Gina Gershon is the spurned wife who has rebounded into the arms of another racer - the one shuffled aside when Stallone gets the gig, and Stacey Edwards is a journalist who comes under Sly Stallone's spell.
Nothing predictable here, eh?
The race action is okay, except for when it gets completely unbelievable. For example, when Memo Moreno has a horrible accident and ends up face down in a German pond, Jimmy Bly does a 180 in his car and, heading straight on into the 200 mph traffic, drives to the accident scene, parks his car and goes to save his friend. And Brandenburg also parks his car to help - despite the fact that it's still in the middle of the race and there are safety crews far more qualified and prepared to help than either of the driver.
Ah, but they meant so well, didn't they - and isn't all that matters in today's society?
Unfortunately, there isn't nearly enough race action to get over the twaddle of the rest of the script. And when they go to digital shots, they often look like digital shots. Oh, they're better graphics than you get from a PC game, but they still look fake.
One thing I did like was the drivers' eye perspective shots, digital as they were. I especially enjoyed the vision of raindrops blasting onto the driver's visor (they don't have useful windshields), which gave an indication of just how difficult such driving must be.
I started getting a sinking feeling in my stomach when perusing the extra materials on the disc (and there are plenty) before playing the movie. One of the deleted scenes involves a computer generated fire on pit lane, where a car becomes engulfed in horrible, bright flame.
Unfortunately, Champ cars burn methanol rather than gasoline - and it burns with a flame that's invisible to the eye. Can you imagine how frightening a pit fire must be when you can't see the flames? Talk about great potential for a dramatic scene, as the pit crew tries to put out a fire they can't see! This happens periodically in real life CART racing, and it's always dramatic.
But that would have taken some conscious thought on the part of scriptwriter Stallone, I guess, 'cause they went for the easy flash of special effects - and then cut it anyway.
Anyway, the performances are all fine. Stallone is quite good as the has-been who suddenly becomes an "is again" and Burt Reynolds is appropriately creepy as the Frank Williams clone (this may not be fair to Williams, whom I've never met, but his actions respecting his drivers over the years certainly does give me that impression). Warren is more of a voluptuous wide eyed waif than an actress, at least here, but I guess that's what they wanted.
The DVD is presented in anamorphic widescreen, 16x9 TV compatible, with Dolby Digital 5.1 surround sound. Audio and video quality are very good, though I would have liked to have heard more racing sounds filling the home theater.
Extras include the abovementioned fire scene as well as an audio commentary track by director Renny Harlin. There are also a couple of behind the scenes features in which Stallone and Harlin profess their love for the sport they're in the process of destroying, additional scenes (which means deleted scenes) with Stallone's commentary, and the trailer.
If you love racing, watch John Frankenheimer's "Grand Prix." It's more than thirty years old, but it's still the best.
Driven, from Warner Home Video
117 excruciating minutes, anamorphic widescreen (2.35:1), 16x9 TV compatible, Dolby Digital 5.1
Starring Sylvester Stallone, Burt Reynolds, Kip Pardue, Til Schweiger, Gina Gershon, Estella Warren, Cristian de la Fuente
Produced by Elie Samaha, Sylvester Stallone, Renny Harlin
Written by Sylvester Stallone, Directed by Renny Harlin