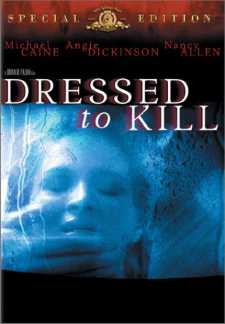 Dressed To Kill
by Johnny Bray
Dressed To Kill is a pretty standard thriller - even by today's standards. Plus, like so many other movies, it seems to have been made as an excuse to throw a bunch of sex and nudity together.
This does not make for an entertaining two hours. In order for a thriller to be entertaining, it has to be thrilling. Dressed To Kill is about as frightening as Scream.
Brian de Palma is a great director, with a very unique visual style. Even less-than-spectacular movies like Snake Eyes and Mission to Mars are worth watching because of his direction.
Unfortunately, he didn't give himself much to work with here. There is a "twist" at the end that is really not that hard to see coming if you pay attention. And then it ends with a thriller cliché so big that it's rather disappointing. Of course, in its defense, it might not have been a cliché back in 1980.
The movie opens with a very revealing shower scene starring Angie Dickinson. It seems de Palma couldn't figure out how to start the film, so he decided to throw in a bunch of nudity to get people hooked. It's all downhill from there.
Michael Caine stars Dr. Robert Elliot, a therapist who gets pulled into something he never imagined. Angie Dickinson is the love-starved woman who turns to him for help, and Nancy Allen is the witness who must also turn to him for help.
All the elements are here for a thriller: murders, sex, unsuspecting heroes, a cat-and-mouse game, and a "twist" ending. However, even with all the elements in place, Dressed To Kill remains a predictable and not-very-entertaining thriller.
MGM is starting to give their DVDs the gold treatment. Even though this movie was made in 1980, the picture and sound are excellent. It's presented in 2.35:1 anamorphic widescreen (16x9 TV compatible) and Dolby Digital 5.1 Surround.
Extras include the "unrated version option," The Making of Dressed To Kill, "Unrated, R Rated and TV Rated" comparison featurette, slashing Dressed To Kill featurette, an appreciation by Keith Gordon featurette, animated photogallery, collectible booklet and the theatrical trailer.
Dressed To Kill, from MGM Home Entertainment
105 minutes, anamorphic widescreen (2.35:1) 16X9 enhanced, 5.1 Surround
Starring Michael Caine, Angie Dickinson, and Nancy Allen
Produced by George Litto
Written and Directed by Brian de Palma.