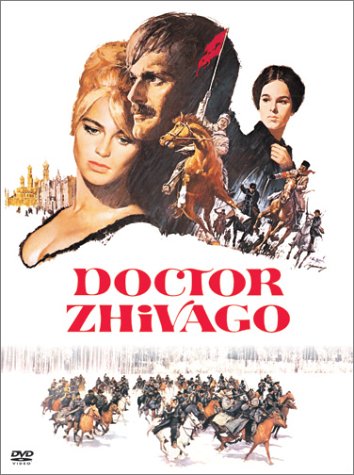 Doctor Zhivago on DVD
A Snowy Day in Hell
David Lean's epic follow-up to his epic Lawrence of Arabia does for northern climes what Lawrence did for the Arabian desert.
In Lean tradition, it's a gorgeously shot film that's a widescreen treat for the eyes and ears of the home theater audience.
Set against the Russian Revolution, though the story is more than a bit of a soap opera, the script follows Yuri Zhivago (Omar Sharif), a young and idealistic medical doctor and poet. Lean's film follows Zhivago from his internship in Moscow, to the World War I front, back to Moscow, to their exile in the Russian countryside, and back to Moscow again in a meandering 200 minutes of screen time that never drags or loses its power even when the story runs out of steam.
This is a movie to be experienced as much as watched, and the larger the screen you have the more you'll enjoy it. As with Lean's other epics, the cinematography, set design, and Maurice Jarre's music all combine to form a lush canvass on which Lean can tell his story.
And a tragic story it is, of ordinary people trying to live their lives as best they can while the world around them is destroyed and reconstituted as a horribly oppressive communist society where no one can be trusted and even the task of everyday living becomes almost impossible. The human tragedy is heartbreaking, but the human spirit shown is uplifting - and that is, undoubtedly, the whole point.
But what a gorgeous DVD! The streets of Moscow, the snowy Russian countryside, the country house covered with ice and snow, all benefit from Sir David Lean's fabulous cinematic vision. The picture and sound benefit from having been created from a new digital master created in 2001 from restored elements of the film. It's practically flawless, except for a strange jiggle that afflicts the opening credits (but you really have to watch for it!), and the picture positively leaps off the screen. We watched Zhivago on a 57" digital widescreen TV fed by a progressive scan DVD player and it was an enthralling experience.
The audio has been remixed into Dolby Digital 5.1 and though there isn't a lot of surround information (but where there is it is used well) the track is still clean and crisp for the most part. We noticed a little bit of distortion on some of the louder passages, but this was the exception rather than the rule.
And the musical score, with its haunting "Lara's Theme," sounds glorious!
DVD collectors and David Lean fans will love the extras Warners has included on this two disc set. Disc One contains the movie, stretched over both sides of the disc (broken, appropriately, at Intermission), along with a commentary track by Omar Sharif, Rod Steiger and the director's widow, Sandra. There's also an introduction by Omar Sharif, which plays automatically when you start the movie. It's interesting, but we wish you had a choice of whether or not to play it. Fortunately, you can merely hit the "chapter skip" button and go directly to the Overture.
There's also a music only track, featuring Maurice Jarre's outstanding score, which won the Oscar for that year.
Disc Two includes a 30th-anniversary behind-the-scenes documentary Doctor Zhivago: The Making of a Russian Epic, and it's a fascinating look at the film's production - though we noticed an error or omission in it: when they talk about the locations used they neglected to mention Canada, yet Canadian Pacific Railway is mentioned in the film's closing credits. Go figure…
And that isn't all. Warners also piles on 10 vintage documentaries profiling different aspects of the production and the players. There are also some vintage audio clips of cast/director interviews and a section from the December 1965 New York premiere.
More conventional extras include cast/director filmographies, trailer, etc.
A great DVD of a great film, a disc that belongs in the library of collectors and Lean fans everywhere.
Doctor Zhivago, from Warner Home Video
200 min. anamorphic widescreen (2.35:1), 16x9 TV compatible, Dolby Digital 5.1
Starring Omar Sharif, Julie Christie, Rod Steiger, Geraldine Chaplin, Alec Guinness
Produced by Carlo Ponti,
Written by Robert Bolt, Directed by David Lean