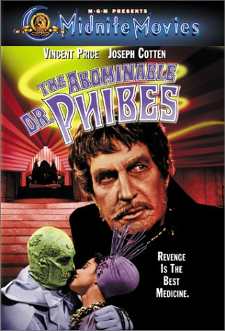 "Dr. Phibes" on DVD
Vincent Price is Right
Part of MGM Home Video's "Midnite Movies" series, The Abominable Dr. Phibes is a 1970 Vincent Price offering that's a bit like the 1990's film Seven in its use of Biblical themes as methods of murder.
Dr. Phibes is a supposedly dead concert pianist bent on revenge. He's mightily PO'd at a team of doctors who apparently botched surgery on his wife, supposedly causing her death. To get back at them, he uses Old Testament plagues (like locusts, rats, etc.) as his murder weapons.
A stylish and reasonably fun, but not particularly horrifying, British horror flick, Dr. Phibes features the inimitable Price and an all-star cast that includes Joseph Cotton, Terry-Thomas, Hugh Griffith and others.
It's worth seeing and lives up to the Midnite Movie classification MGM has given it.
The DVD is presented in widescreen, enhanced for 16x9 TV's, and the video quality is far better than the subject material; in fact, if it weren't for the fact that so many of the cast are currently dead, you could think it was shot last week. Audio quality is also good, but remember that this film is from the days when not as much attention was paid to sound quality as it is today.
Extras are limited to the trailer.
"Dr. Phibes Rises Again"
An unremarkable sequel to a strange original, "Dr. Phibes Rises Again" can't really quite decide if it's a comedy or a horror flick, and thereby fails at both.
Ten years after the first film saw him supposedly defeated by the forces of Scotland Yard, Dr. Phibes is on his way to Egypt to resurrect his wife. True to his bent, he dreams up cleverly interesting and highly diabolical ways to kill all those who stand in the way of his quest.
It all comes up rather lame, however. If you enjoyed the original, you may want to sit through this one, but we can't really recommend it for anyone other than the true "B" movie aficionado.
Vincent Price is fine as Dr. Phibes, and we also get treated to a guest appearance by Peter Cushing, but for the most part the actors are wasted here.
Even the DVD falls down in comparison to the first "Dr. Phibes." The widescreen picture (16x9 compatible, fortunately) quality is okay, but substandard to the first film. The audio is okay as well, but nothing to write home about. Extras are limited to the theatrical trailer.