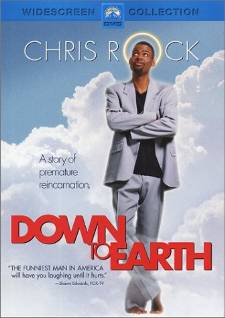 Down to Earth
Rock Bottom Comedy?
Chris Rock stars in this new version of "Heaven Can Wait" as budding comedian Lance Barton, whose life is cut short before he can make his audition for the big time at the Apollo Theater.
The "powers that be" upstairs in heaven (Eugene Levy and Chazz Palminteri) cut him some slack, however, and send him back to earth in a new body. Unfortunately, it's the body of a middle aged white billionaire who appears to represent the opposite of everything for which Lance stands.
While in that body, waiting for a more appropriate one to become available, Lance meets and falls in love with Sontee (Regina King), a civic activist to whom Lance's host is the virtual AntiChrist. Lance tries to woo her the only way he can in that body: by changing the man he's occupying into the man he really is, thereby turning the billionaire's corporate empire on its ear.
The movie is generally pretty good, and quite funny, but there's an unfortunate detour during the billionaire scenes that becomes more of a ranting litany of liberal "values" and this really takes away from the film. Fortunately, Lance is forced to vacate that body and things get back on track again.
Rock is likable enough as Lance, and his performance is quite believable. King, Levy and Palminteri are also very good in their roles, though the latter two are more like large cameos than real supporting parts.
The script, other than the liberal rant section, is quite entertaining and in places even charming, so on the whole the movies works well.
The DVD is presented in anamorphic widescreen, 16x9 TV compatible, with Dolby Digital 5.1 audio. Picture and sound quality are excellent.
Extras include cast and crew interviews and the theatrical trailer.
Down to Earth, from Paramount Home Video
87 min. anamorphic widescreen (1.85:1), 16x9 TV compatible, Dolby Digital 5.1
Starring Chris Rock, Regina King, Eugene Levy, Chazz Palminteri
Written by Chris Rock and Lance Crouther and Ali LeRoi and Louis C.K.
Produced by Sean Daniel, Michael Rotenburg, James Jacks, Directed by Chris Weitz and Paul Weitz