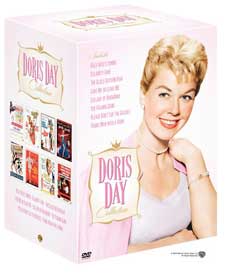 The Doris Day Collection on DVD
Doris Day was one of the greatest screen stars ever, and this eight disc collection is a wonderful showcase of her talents. And, far from being the virginal star for which she has somehow become known, the set shows clearly that she could do it all: sing, dance, dramatic acting, you name it - and she was darn sexy, too.
Love Me or Leave Me, for example, is a 1955 biopic about 1920's singer Ruth Ettig in which Day displays all of the abovementioned talents, in a gritty and adult story that belies the virginal image. Day, as Ettig, is outstanding as the singer whose life was propelled, indeed controlled, by small time hood Marty "The Gimp" Snyder (James Cagney, who is also excellent). And "Please Don't Eat The Daisies" sees her flexing her skillls as a devoted housewife trying to keep family and marriage together while her husband (David Niven) commences a high profile career as a New York drama critic.
Day plays totally different characters in both of these films, yet is totally convincing in each role.
But that's only two great titles in this boxed set that not only features the eight films, but also includes abundant extras. It really is a fitting tribute to this great star and a wonderful introduction to her for those who may not have had a chance to learn just how talented she was.
Here's a listing of the films, with short descriptions as they appear on the DVD boxes, followed by our comments:
Young Man with a Horn (1949)
"With a second-hand trumpet and the loving guidance of a brilliant bluesman, a lonely boy grows into manhood as a superb musician whose talent carries him from honky-tonks to posh supper clubs. But his desperate search for the elusive high note, trapped in his mind but impossible to play, starts him on a boozy downward slide. Charged with dynamic performances by Kirk Douglas (the title role), Doris Day, Lauren Bacall and Hoagy Carmichael and pitch-perfect direction by Michael Curtiz, the film is a feast of hot, cool, moody jazz. Legendary Harry James dubbed Douglas' horn work."
The DVD is presented in its original full frame aspect ratio, so owners of 16x9 TV's that may be prone to burn in (CRT or plasma-based TV's) will want to stretch/zoom them to fit the rectangular screen. The black and white picture quality is very good, however, with nice, sharp edges and good contrast. There's some grain, but overall it's pretty good. Audio, of course, is Dolby Digital mono and it's pretty good considering the source material.
The only extra on this disc is a Doris Day trailer gallery, and it only includes the trailer for this film and for Storm Warning, a drama that exposes the Ku Kux Klan and in which Day co stars with Ginger Rogers and Ronald Reagan. It looks like another dandy, though you barely see Day in the trailer.
Lullaby of Broadway (1950)
"The steps of the studio set towered before her like a pyramid. All Doris Day had to do was dance up and down those steps wearing a flowing gold lame dress. "You've got to be out of your minds," Day exclaimed in a voice heard across the soundstage. "I can't even walk up and down those stairs.
She danced divinely – and sang – in this musical delight about a singer newly arrived in New York – and destined for Great White Way fame in the capable company of co-stars Gene Nelson, S.Z. Sakall, Billy De Wolfe, Gladys George and Florence Bates. Savor the Oscar-winning title tune, Cole Porter's Just One of Those Things, Somebody Loves Me and six more swell songs. C'mon along and listen to (and watch) this Lullaby of Broadway."
This flick is also presented in its original full frame (1.33:1) aspect ratio, so the above caveat applies for people with TV's that could be affected. The color picture is very good, however, nice and sharp and bright and colorful. Audio is Dolby Digital mono and it's fine.
Extras include a Day trailer gallery that, this time, features trailers from this movie and five others.
Love Me or Leave Me (1955)
The biopic mentioned above.
"Laced with Doris Day's vibrant performances of songs from the era, this 1955 Academy Award winner (Best Motion Picture Story) is based on the tough-minded tale of Etting's life with the man who boosted her career with strong-arm tactics yet smothered her in an obsessive grip she escaped at great peril. As Snyder, James Cagney earned one of the film's six Oscar nominations. Ms. Day's Etting was a career-best dramatic performance, bringing acclaim from critics and protest letters from fans unprepared for the departure from her traditionally sunny roles."
This is an excellent film. Day is at her best, showcasing her talent and the sexiness some people seem to forget she had.
The DVD features a nice crisp print in the film's original anamorphic widescreen aspect ratio of 2.35:1. The color picture quality is very good. The soundtrack has been remastered into Dolby Digital 5.1, though you don't get a lot of surround. What you do get is a nice three channel soundfield across the front of your home theater, and that's just fine with us.
Extras include three vintage shorts, the first two featuring the real Ruth Etting. You also get the theatrical trailer.
Billy Rose's Jumbo (1962)
"Jumbo is a mighty talented elephant. It's also the ideal word to describe this big-time, big-top extravaganza bursting with laughter and love, song and dance, circus stunts and star power.
Radiant Doris Day sings beloved Rodgers and Hart tunes and does her own horseback riding tricks in this razzle-dazzle musical based on Billy Rose's stage spectacular and featuring circus sequences directed by Busby Berkeley. The story revolves around a circus owner (Jimmy Durante, star of the 1935 Broadway original) with only two real attractions: his daughter (Day) and popular pachyderm Jumbo. Three-ring pandemonium breaks out when a handsome rival (Stephen Boyd) infiltrates the circus, and father, daughter and Dad's wisecracking fiancée (Martha Raye) are suddenly at risk of losing the greatest show on earth."
The DVD's features include a soundtrack remastered into Dolby Digital 5.1, and it sounds pretty good. The picture is featured in anamorphic widescreen, 16x9 TV compatible, and it is sharp and colorful.
Extras include the musical short Yours Sincerely, a Tom and Jerry cartoon (Jerry and Jumbo), and the original overture restored to the film for the first time in more than 40 years.
Please Don't Eat the Daisies (1959)
"Kate Mackay (Doris Day) has four boys who someday may lend their names to hurricanes. A monstrosity of a country fixer-upper that needs its lower fixed too. And a poison-pen, drama-critic hubby (David Niven) who sees plays under the worst possible circumstances – by being in the audience.
Kate hangs in through thick and thicker in this jovial comedy from the bestseller by playwright Jean Kerr. Day brings her trademark radiance to the goings-on and to the songs Please Don't Eat the Daisies and Any Way the Wind Blows. Spouse Niven finds his hawklike critic's eye clouded when a production of a play he wrote decades earlier may bring about his comeuppance. With Janis Paige, Spring Byington and Richard Haydn on hand for snappy comic support, Please Don't Eat the Daisies is breezy family fun."
This is a much better movie than we'd expected. Day lights up the screen with her radiance and is totally believable as the harried housewife – and we must admit it's nice to see a movie about a family who loves each other and isn't dysfunctional somehow, something that's rare these days (The Incredibles being a noteworthy exception).
The DVD is presented in anamorphic widescreen, 16x9 TV compatible, with a bright, colorful and sharp picture. Audio is Dolby Digital mono and is about what you'd expect. The only extra is the theatrical trailer.
The Glass Bottom Boat (1966)
"Doris Day entered her eighth consecutive year as a Top-10 Box-Office Star when she boarded The Glass Bottom Boat, a blending of romantic comedy and the era's burgeoning spy-movie genre.
Day plays a Girl Friday at a hush-hush aeronautics think tank. When colleagues suspect she's an espionage agent, Jennifer chaotically sets out to clear her name. Looney Tunes alumnus Frank Tashlin directs with a cartoonist's sensitivity – or zany insensitivity – embracing everything from spy guises to push-button chaos in a futuristic kitchen. With top comedians Arthur Godfrey, Paul Lynde, Edward Andrews, John McGiver, Dom DeLuise and Dick Martin in tow, The Glass Bottom Boat is loaded top to bottom with seethrough fun."
The film, which co stars Rod Taylor, is presented in anamorphic widescreen, 16x9 TV compatible, and the picture quality is very good. Audio is Dolby Digital mono.
Special features include three vintage featurettes, the Oscar-winning Chuck Jones cartoon The Dot and the Line, and the trailer.
Calamity Jane (1953)
"Doris Day and Howard Keel fuss, feud and fall in love as Calamity Jane and Wild Bill Hickok in this enterainment mother lode. At first curvaceous Calamity is too durned busy fighting Indians and cracking a bullwhip to pay mind to such girlie what-alls as dresses and perfume. And Wild Bill is too danged busy wooing a dainty chanteuse (Allyn McLerie) to give a hoot about a hot-headed tomboy. But things change in a rootin', tootin, big way when each becomes love's target. There are wide-open Technicolor Western spaces, lots of high-stepping dances and a hummable humdinger of a score by Academy Award-winning songwriters Sammy Fain and Paul Francis Webster, who took their first Oscar for the classic ballad (and '50's megahit) Secret Love.
The DVD is in the movie's original full frame aspect ratio, so owners of 16x9 TV's prone to burn in should take note. The picture is very good, though, sharp and bright and colorful. Audio is Dolby Digital mono and is fine.
Extras abound on this disc, including the trailer as well as newsreels from the film's premier and awards night.
The Pajama Game (1957)
"Labor and management at the Sleeptite Pajama Factory aren't sleeping much lately: a proposed 7 ½ cent hourly wage increase is why – and a strike may result. But negotiations here involved snappy stars, terrific tunes and dynamic dances as Doris Day, John Raitt and a Broadway-seasoned cast play The Pajama Game.
Songs by the Damn Yankees duo of Richard Adler and Jerry Ross and choreography by Bob Fosse generate lots of Steam Heat, all whipped together delightfully under the direction of two musical masters of stage and screen, George Abbott and Stanley Donen. Besides Steam Heat (showcasing the quirky brilliance of dancer Carol Haney), catch Hey There, I'm Not At All In Love, Hernando's Hideaway, Once-a-Year Day and other all-time great numbers. For peerless entertainment, negotiate no further. Nothing's quite the same as The Pajama Game, newly remastered from restored elements to look and sound as fresh as ever."
It does look and sound good, too. The film is presented in both anamorphic widescreen and Pan&Scan video, on opposite sides of the disc, and the picture quality is very nice indeed. Audio is still Dolby Digital mono, but it sounds fine.
Extras include a deleted song (The Man Who Invented Love) and the trailer.
All in all, a wonderful boxed set!