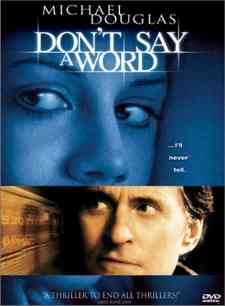 Don't Say a Word on DVD
What would you do if your daughter was kidnapped and the perpetrators knew every move you made?
Would you give them whatever they wanted? Would you risk calling the police?
In Don't Say a Word, Nathan Conrad (Michael Douglas) is faced with that very predicament. His daughter has been kidnapped, and the only way to get her back is to recover a six-digit number from the mind of one of his young female patients. He isn't to call the police, or even mention a word of it to anyone.
And so begins the race against time to convince the girl to delve deep into her past. A little girl's life depends on her remembering the number that can give the kidnappers what they want.
The movie, though a pretty standard thriller, is well-done in every aspect and definitely deserves some major kudos for the quality of the acting. Michael Douglas is excellent in the lead, and this is exactly the kind of role he was born to play. Brittany Murphy is also excellent as the troubled teen with a secret. The supporting cast, including Sean Bean, Guy Torry, Jennifer Esposito, Famke Janssen and Oliver Platt are all superb, though they'reovershadowed by the two leads.
Gary Fleder (Kiss the Girls) directs the film, and proves himself to be the Alfred Hitchcock of our generation. He uses simple things like camera techniques and long shots to create suspense, while making us care about the characters at the same time.
Which brings me to another point: right away the film establishes Nathan and his family as a very loving, closely-knit family. You can tell Nathan really cares about his daughter, and that makes us hope even more that he can get her back.
Unfortunately, as is the case with any thriller, there are a few things that just don't quite make sense. Like how the kidnappers managed to set up cameras and other things in Nathan's bedroom without waking up him or his wife. Or why they can manage to get a microphone into Elizabeth's room, but can't get in themselves. Just a couple things that spring to mind.
But still, if you're a fan of thrillers, Don't Say a Word will definitely please. It features a standard thriller story, with great acting and directing to back it up.
And here we have another great DVD from Fox. I have to say honestly, I think they have to be the best out there right now. Don't Say a Word is presented in 2.35:1 anamorphic widescreen, with 5.1 Dolby Digital and DTS. All parameters feature great transfers. The video quality is very dark throughout most of the movie, but you're still able to make out all the details. The beginning is very blue, but still manages to look really good. This is one of the better video transfers I've seen in a while.
The audio is also excellent. It's always nice to have a choice of Dolby Digital or DTS, and I personally like DTS better. The soundtrack is done in such a way that it uses all the speakers to make the movie even more suspenseful. Whether it's music, sound effects, or just dialogue, the audio on this disc is top-notch, and adds a nice touch to the film.
Though not dubbed a special edition, the amount of extras would certainly qualify it as one. First off, there is a feature-length commentary by director Gary Fleder, and several scene-specific commentaries by the main players. Douglas, Bean, Murphy, Janssen and Platt all commentate two scenes each. Much of it is just general back-slapping, but once they get that out of the way they can actually be quite informative. This is a nice feature that I would like to see more often.
Next up are three short deleted scenes that were rightfully cut. They don't add anything to the film, and are not even long enough to make much difference. There is a short making-of featurette, which is typical PR stuff, a set tour featurette, a film scoring featurette, screening room dailies, a Brittany Murphy screen test, storyboard-to-screen comparisons, and the trailer.
A very nice disc from Fox.
Don't Say a Word, from 20th Century Fox Home Entertainment
113 minutes, anamorphic widescreen (2.35:1) 16X9 enhanced, 5.1 Dolby Digital, DTS
Starring Michael Douglas, Sean Bean, Brittany Murphy, Famke Janssen and Oliver Platt
Produced by Arnon Milchan, Arnold Kopelson, Anne Kopelson
Screenplay by Anthony Peckham and Patrick Smith Kelly
Directed by Gary Fleder