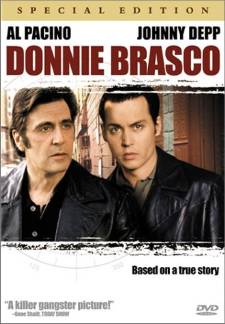 "Donny Brasco" on DVD
A "Killer" Gangster Flick
by Johnny Bray
All Lefty ever wanted was to move up in the crime world.
Stuck as merely a hitman for his entire mob career, Lefty Ruggiero (Al Pacino) meets Donnie Brasco in a restaurant one day. From there, the two form a friendship unlike any other.
Lefty mentors Donnie (Johnny Depp) on the ways of the mob, what to say, and whose ass to kiss.
What he doesn't know, however, is that Donnie Brasco is really Joseph Pistone, an FBI agent. Pistone's job is to bring Lefty to justice for all the "whacks" under his belt.
But Pistone gets a little too into it, and it begins to affect his personal life. His kids won't talk to him, and his wife tells him she wants a divorce. What was supposed to be a three-month job is now going on two years.
The film is based on a true story, and adapted from the book Donnie Brasco: My Undercover Life in the Mafia by Joseph D. Pistone.
It's an excellent movie with an excellent cast, especially the two lead actors. Anne Heche, Michael Madsen, Bruno Kirby and James Russo co-star.
Donnie Brasco has everything a mob movie should have: action, suspense, violence, as well as a lesson in the various meanings of "fuhgittabottit."
It has some very powerful scenes that make you think (I hate when that happens!). The final chapter, when Lefty gets "sent for," is especially effective. But then it moves into an unnecessary ending in which Pistone is rewarded, and then you get one of those captions where it tells you what happened after that. The problem with that lies in the fact that we already know what happens.
If they'd just deleted that one scene and left it at that, it would have been so much better. Instead, the power of Lefty's final act is greatly depreciated.
However, other than that, it's a very good movie.
The special edition DVD is presented a widescreen version in the ratio of 2.35:1, enhanced for 16x9 TV's, and the picture and sound quality are exactly what you'd expect from a DVD – exceptional. The disc is jam-packed with special features, such as a director's commentary track, deleted scenes, theatrical trailers and talent files. there's also a featurette, isolated musical score, production notes.
Donnie Brasco, from Columbia Tristar Home Video
get timing minutes, Widescreen (2.35:1), Dolby Digital
Starring Al Pacino, Johnny Depp, Anne Heche, Michael Madsen
Produced by Mark Johnson, Barry Levinson, Louis DiGiamo, Gail Mutrux
Written by Paul Attanasio, Directed by Mike Newell