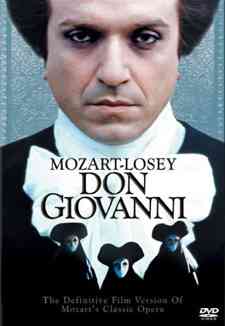 Don Giovanni on DVD
Mozart puts his own spin onto the legend of Don Juan in this famous opera.
Set in Seville, Spain, in the 17th century, the story revolves around young nobleman Don Giovanni, a man well-known as a philanderer with a long list of amorous conquests he's determined will get even longer. The man's really a cad, but he has an effect on women that tends to have them flocking to him like flies.
Naturally, one particular attempt at conquest blows up in his face, and in true operatic tradition, with tragic consequences.
On the whole, this is a wonderful film version of Mozart's opera, with terrific performances from a cast that includes Ruggero Raimondi (Don Giovanni), John Macurdy (The Commendatore), Edda Moser (Donna Anna), Kiri Te Kanawa (Donna Elvira), Kenneth Riegel (Don Ottavio), and José van Dam (Leporello). They can sing up a storm and that's exactly what they do here.
As should be, the film was shot on location rather than being a movie of the stage presentation, and the production values are excellent. Unfortunately, though the orchestra's performance is great, the audio quality isn't up to the same standard and is the biggest flaw with this DVD.
And that's a shame, since music is what this film is all about.
Still, the DVD is pretty good overall, featuring anamorphic widescreen video (16x9 TV compatible) with good image quality, and Italian language Dolby Surround audio. Extras include subtitles and trailers.
Not a lot of extras to be sure, but overall an envigorating version of one of Mozart's most famous creations.
Don Giovanni, from Columbia Tristar Home Video
176 min. anamorphic widescreen (16x9 TV compatible), Dolby Surround
Starring Ruggero Raimondi, John Macurdy, Edda Moser, Kiri Te Kanawa, with the orchestra and chorus of the Paris Opera
Executive Producers: Michael Seydoux, Robert Nador
Adapted by Joseph Losey, Patricia Losey, Frantz Salieri, Directed by Joseph Losey