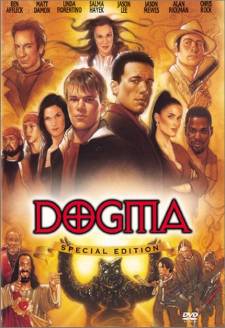 "Dogma - the Special Edition" on DVD
Faith can be Funny
by Johnny Bray
Okay, so the movie hasn't changed. But at least we can add another "finally getting the treatment it deserves" movie to the pile.
Written and directed by Kevin Smith, Dogma is about two banished angels (Matt Damon and Ben Affleck) who find a way to get back into heaven. The only catch: they'll destroy the universe if they do it.
So it's up to Bethany (Linda Fiorentino), with her entourage of zany characters, to stop the angels and save the universe. Her sidekicks include the two prophets, Jay and Silent Bob (Jason Mewes and Kevin Smith), the thirteenth apostle (Chris Rock), the voice of God (Alan Rickman), and a former muse with an unfortunate case of writer's block (Salma Hayek).
A movie this funny and well-written deserves the gold DVD treatment. As soon as you see "Buddy Christ," you know it's going to be a film worth watching.
Anyway, for a full review of the actual movie, click here.
The picture and sound on this disc are excellent. They took their time doing all the remastering, which is always nice to see. It's done in 2.35:1 anamorphic widescreen, with 5.1 Dolby Digital sound.
As it should be.
This two-disc special edition has a lot of features that could keep a man (or woman) occupied for quite some time. Included on disc one are a new Dogma Essay by Kevin Smith, two cast and crew commentaries, and a bonus "Follow the Buddy Christ for More Hijinks with Kevin Smith, Ben Affleck, Jason Lee, Jay Mewes, and the View Askew Crew.
Disc two includes the complete set of storyboards from three major scenes, 100 minutes of deleted scenes (some of which are actually pretty funny), cast and crew outtakes, Jay and Silent Bob's Secret Stash Spot, talent files, and the theatrical trailer.
It's a nice change from the original movie-only version.
Dogma, from Columbia Tristar Home Video
128 minutes, anamorphic widescreen (2.35:1), 16X9 compatible, Dolby Digital 5.1
Starring Ben Affleck, Matt Damon, Linda Fiorentino, Salma Hayek, Jason Lee, Jason Mewes, Alan Rickman and Chris Rock
Produced by Scott Mosier Written and Directed by Kevin Smith