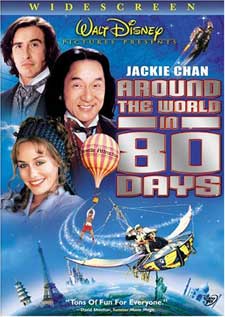 Around the World in 80 Days on DVD
Where's Mike Todd when you need him?
Disney's remake of Todd's 1956 Oscar-winning big screen spectacular tries to be a big screen spectacular and a Jackie Chan movie at the same time. They should have chosen one strategy and followed it.
Jackie Chan is a very likeable action/comedy star whose movies are very popular. And even though the original movie followed hero Phileas Fogg (played then by David Niven and now by Steve Coogan) since Chan is the star here (and, undoubtedly since he isn't British) the story has been rejigged a tad to make Passepartout – the supporting role in 1956 – the lead. So he needs more to do than Fogg.
To that end, the producers came up with a subplot in which Chan is really Lau Xing, a Chinese national who steals from the Bank of England (steals back, actually) a jade Buddha and uses Fogg's wager-inspired trip around the world in 80 days as his quickest ticket back to his Chinese village from whence it came. So he passes himself off as a French valet – we kid you not – and the rest is his story, er, history.
Fogg in this case is a kind of crackpot inventor, much like Dick Van Dyke's Caractacus Potts in Chitty Chitty Bang Bang, which this film reminds us of in some ways. He wagers his future on the trip, and of course those against whom he bet send their own nefarious forces to ensure that Fogg doesn't win.
The movie features some nice locations, especially the beautiful area around the Chinese village that's supposedly Chan's home. There are also some neat computer-animated transitions that are almost worth the price of admission. They're very pretty.
But the movie ultimately fails because it's basically silly (not that there's necessarily anything wrong with silly; some of our favorite films are silly) and pretentious and every so often the narrative grinds to a halt while Chan has to fight off whatever superior force happens to be around this time. The action scenes are good, and very well staged, but it seems clear that they're there because this is now a Jackie Chan film rather than a Jules Verne one. And that's a shame.
Still, there's a lot to like, including cameos by such names as Richard Branson, Arnold Schwarzenegger, John Cleese, Owen and Luke Wilson, and Sammo Hung. The production values are excellent and the performances are fine, but in the end this is an empty-headed exercise that isn't nearly as good as Todd's 1956 Best Picture Oscar winner.
The DVD is very good, though. Presented in separate widescreen (16x9 TV compatible) and Pan&Scan versions, the picture quality is excellent, with a wonderfully sharp image and rich colors.
Audio is Dolby Digital 5.1 surround, though there isn't a lot of surround. The quality, however, is very good indeed.
Extras include an alternate beginning (as opposed to the more common alternate endings), a cast/filmmaker commentary track, deleted scenes, a couple of behind the scenes featurettes, and a music video of "All Over The World" Performed By Dave Stewart And The Sylvia School Children's Choir.
But watch the Mike Todd original. It's a better movie.
Around the World in 80 Days, from Walt Disney Home Entertainment,
Starring Jackie Chan, Steve Coogan, Jim Broadbent, Cécile De France
Produced by Hal Lieberman and Bill Badalato
Written by David Titcher and David Benullo & David Goldstein, Directed by Frank Coraci