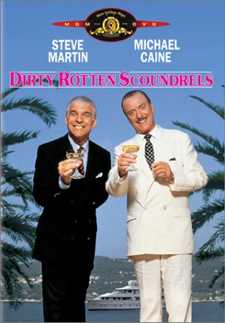 Dirty Rotten Scoundrels
Pros and Cons
I must say, in all honesty, I've never laughed as hard at a movie as I did at Dirty Rotten Scoundrels.
Of course, the entire movie is not side-splittingly funny, but there is 20 minutes or so that is one of the funniest sequences I've ever seen. The rest is still pretty good.
As the movie opens, we get to see Lawrence Jamieson (Michael Caine) working his con-artist magic, and convincing a woman to give him an expensive necklace to aid his struggling kingdom. Then he does it again.
And then we're introduced to Freddy Benson (Steve Martin), who seems to have the same talent, but doesn't use it to the same extent. Rather than getting priceless jewelry, he's happy with dinner and twenty bucks.
And of course, it wouldn't be a movie if the two con artists didn't cross paths and end up teaming up. Lawrence takes Freddy in, and teaches him how to go for the big score. They then make a bet on who can extract $50 000 from a woman, and the loser has to leave town.
Freddy's "training" is very funny, but when the two work together as a prince (Caine) and his "special" brother, Ruprecht (Martin), it becomes downright hilarious. Only someone like Steve Martin would be able to handle the role, and I couldn't stop laughing for the entire scene.
There are even some plot twists near the end, which fit nicely and lead up to the great ending.
Caine and Martin are phenomenal in their multiple roles, and have great chemistry together. Glenne Headly plays Janet Colgate, the seemingly innocent woman that the scoundrels make the bet on, and she too, is great.
Frank Oz directs the film, and he has a great sense of comedy, as he's proven many times since 1988. He's one of those directors that you can almost always count on to make a good movie.
The problem with Dirty Rotten Scoundrels is that it goes from being mildly amusing, to hilarious, to mildly amusing. But the 20 minutes of hilarity is well worth watching the film for. Especially since the rest of it is still pretty good.
If you're a Frank Oz, Steve Martin, or Michael Caine fan, Dirty Rotten Scoundrels is sure to please. It's fine work by all three.
The DVD is pretty average. The 1.85:1 anamorphic widescreen is good, but isn't quite up to par with DVD standards. It still looks a little grainy and dated. The 5.1 Dolby Digital is pretty much wasted, but always nice to have. There isn't really a scene in the movie where you notice it, but at least it's there. I guess that's about all you can ask for.
There is a short, 5-minute-or-so behind-the-scenes featurette, which, as always, is an extended commercial. Fortunately, it does feature some humorous interviews with the cast and crew. There is also a teaser trailer with optional commentary by Frank Oz, and the original theatrical trailer, which is actually pretty funny. Last but not least, is a commentary by Oz. He's a very personable guy, who is very pleased with the people he worked with. He enjoyed making the film, and has some good anecdotes to tell.
The disc is a subpar for today's standards, but for a movie that came out 13 years ago and didn't do overly well, I guess it's as good as can be expected.
Dirty Rotten Scoundrels, from MGM Home Entertainment
110 minutes, anamorphic widescreen (1.85:1) 16X9 enhanced, 5.1 Dolby Digital
Starring Steve Martin, Michael Caine, Glenne Headly, Anton Rodgers and Barbara Harris
Produced by Bernard Williams
Written by Dale Launer and Stanley Shapiro & Paul Henning
Directed by Frank Oz