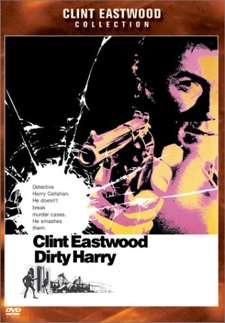 Dirty Harry on DVD
Clint Makes our Day
Clint Eastwood hung up his spurs temporarily to take his strong and quiet man character to the streets of San Francisco in this first of his Dirty Harry films.
Eastwood plays Harry Callahan, a cop who does things his own way much to the chagrin of those he busts and the cops with whom he serves. This mission sees him going after Scorpio, a sniper who has already killed multiple victims and is holding the city hostage by threatening to continue his killing spree.
Harry's going to get Scorpio, and to hell with the bureaucrats and the rules.
Eastwood has built a career out of creating such characters, and in fact the success of Dirty Harry spawned numerous sequels (all of which, with the original, are available in a boxed set).
Warners has done a really good job on the DVD release of Harry. The picture, which is anamorphic widescreen (16x9 TV compatible), was created from a new digital transfer and though the source material appears a tad dated for the most part the video quality is very good indeed. The audio has been remised to Dolby Digital 5.1 surround and while it isn't as good as the video it's fine considering the analog source material.
And Harry/Eastwood fans will love the extras. First, there's a full length retrospective documentary "Dirty Harry: The Original" which includes cast and crew reminiscences as well as tributes from people for whom Dirty Harry and Clint Eastwood were major inspirations (Arnold Schwarzenegger, for example).
There's also a behind the scenes documentary from 1971, the year of the film's original release, and it's pretty good too, though not as good as the main documentary.
Also included is an interview gallery, which collects and expands upon the interviews used in the main documentary, production notes, and the theatrical trailer.
The extras actually cover more than just this first movie, which makes us wonder what's left to include as extras on the other Dirty Harry movies.
We're sure they'll think of something…
Dirty Harry is an important movie for Clint Eastwood's career, and it still works today. In fact, in this politically correct age, it works even better than it did originally.
Dirty Harry, from Warner Home Video
102 min. anamorphic widescreen (2.35:1), 16x9 TV compatible, Dolby Digital 5.1
Starring Clint Eastwood, Harry Guardino, Reni Santoni, Andy Robinson, John Larch, and John Vernon
Written by Harry Julian Fink & R.M. Fink and Dean Riesner
Produced and Directed by Don Siegel.