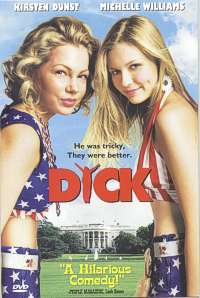 "Dick" on DVD
Fun and Games with History
by Jim Bray
What if Richard Nixon had really been brought down by a pair of starry-eyed, boy crazy high school girls?
That's the rather silly premise of "Dick" and it works surprisingly well.
"Dick" not only sets up the abovementioned pair of "bimbos" as the true destroyers of the Nixon legacy, it paints media icons Woodward and Bernstein as a pair of bumbling egotists out for the scoop at all costs.
Which means that Dick is really part documentary, right?
Well, it means there's something for almost everyone in "Dick," whether you're a Nixon hater, conspiracy buff, media skeptic, or just someone in search of an hour and a half worth of laughs at the expense of a great many sacred cows.
Kirsten Dunst and Michelle Williams star as the girls who, through a bizarre-but-reasonably-believable set of circumstances, witness the Watergate break-in, meet President Nixon and are appointed his official dog walkers and special secret youth advisors and finally end up being the infamous "deep throat" informant who made Bernwood and Woodstein who they are today. Oh, they also get Nixon's inner circle stoned repeatedly, thanks to their unwitting inclusion of Dunst's brother's pot into the special cookies they bake for the president that prove so popular at the White House.
"Dick" features a terrific cast, including Dan Hedaya as the title character, Dave Foley as H.R. Haldeman, Harry Shearer as G. Gordon Liddy, and Saul Rubinek as Henry Kissinger. They all look the parts they play and play them reasonably straight, all of which makes the film work even better.
The situations are ludicrous, if not outrageous, but the movie is obviously not meant to be taken seriously and that makes it work even better, too. And it's interesting to see how screenwriters Fleming and Longin have weaved events from historical reality into an eventful and hysterical unreality.
Also on hand in "Dick" is a terrific 1970's-era soundtrack that propels the film onward with a layer of AM/FM radio backgrounds reminiscent of what George Lucas pioneered in his "American Graffiti."
Columbia has released this DVD in both widescreen and Pan&Scan formats, on opposite sides of the disc, so home video watchers get the best of both worlds. Picture and Dolby Digital 5.1 audio quality are terrific, though there isn't a lot of surround information. The musical score/soundtrack is also available on its own, isolated track, which is a nice plus.
For other extras, there's a decent liner essay inside the package, a director/screenwriters' commentary track, a very short "making of" featurette, a deleted "dreams sequence", a minimal list of talent files, and a blooper reel (and it looks as if they had a lot of fun making this flick). There are also the usual chapter stops, language choices, etc.
"Dick" isn't high art, nor is it meant to be. It is, however, an outrageous lampoon of the 1970's generation, politics, the state of "journalism," the missing 18 and a half minutes of incriminating tape, and just about anything else the movie finds time to touch along the way.
Dick, from Columbia Tristar Home Video
94 minutes, Widescreen (1.85:1)/Pan&Scan, Dolby Digital
Starring Kirsten Dunst, Michele Williams, Dave Foley, Harry Shearer, Dan Hedaya
Produced by Gale Ann Hurd, Written by Andrew Fleming & Sheryl Longin
Directed by Andrew Fleming