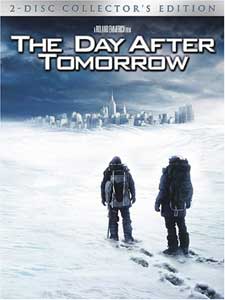 The Day After Tomorrow: All Access Collector's Edition
As far as disaster movies go, The Day After Tomorrow is the most disastrous yet.
It features some of the best destruction scenes ever done, but the movie itself is pretty terrible.
After witnessing a big chunk of the polar ice caps breaking off, climatologist Jack Hall (Dennis Quaid) is worried about global warming bringing about a new ice age. He says it shouldn't happen for another 100 years at least, but he changes his mind when he sees Los Angeles destroyed by a series of tornadoes. Before long, the entire Northern Hemisphere will be completely covered with ice.
When Jack gets word that New York City has been flooded, he decides it's a good idea to go rescue his son, even though soon enough the entire city will be frozen solid. For the rest of the movie, it's basically a race against time to see who can survive.
The Day After Tomorrow is a tough one to call. On one hand, the special effects and disaster sequences are really cool. On the other hand, the movie really sucks. Like previous Roland Emmerich films, the first act is pretty hardcore and only hindered by its story (which in this case is extremely politically correct and not very well written - let alone well thought out). In the second act not much happens, but you keep going because you want to see more of what you got in the first act. And finally, the third act has some intense moments, but is an ultimately unsatisfying climax.
The filmmakers (and critics, and liberals) would like you to believe that if we don't stop doing what we're doing (i.e. global warming), the events in the movie will surely take place. Just as Al "Sore Loser" Gore. In fact, director Emmerich seems to have spent more time on his agenda (and in finding a Dick Cheney look-alike to play the evil capitalist Vice President) than he did on the script. And it must be noted that he even stole at least one shot from his own movies! In Independence Day, there's a shot of a fireball rolling down the street in Washington D.C. In The Day After Tomorrow, there's an almost identical shot of water rolling down the street in New York City. Both push cars high in the air as people scream and do their best to run away.
More could be said, but why? To put it as simply as possible, the first hour of the movie is well worth watching, provided you don't pay attention to what anybody is saying. The second half is pretty much a write-off, with a whole bunch of by-the-numbers action sequences you can see in better movies. Had it been made by a filmmaker with more talent than power, instead of the other way around, there's a good chance it could have been much better.
Much like Fox's other All Access Collector's Editions, The Day After Tomorrow features the same transfers and extras as the previous release, plus a second disc of goodies.
Disc one has the feature and commentaries. Disc two goes deeper behind-the-scenes than the movie deserves. "Two Kings and a Scribe" is a production documentary that chronicles (obviously) the production of the film, featuring interviews with the cast and crew and a lot of really boring footage. Two short pre-production featurettes and almost an hour of post-production stuff rounds out the making-of material (it's all well produced but ultimately not that entertaining). "The Force of Destiny" is an hour-long documentary that discusses the science and politics of climate change, and thankfully doesn't get nearly as politically correct as the movie itself. It's fairly interesting, actually, since it's more like a Discovery Channel documentary than a DVD supplement.
There's also about 20 minutes of deleted scenes, which would have only made the film 20 minutes longer and added nothing to it. The optional commentary by Roland Emmerich and Mark Gordon doesn't make things any easier.
Finally, there is the same "Audio Anatomy" featurette as the previous release, storyboard and concept galleries, and some trailers.
The Day After Tomorrow: All Access Collector's Editon, from 20th Century Fox Home Entertainment
123 minutes, anamorphic widescreen (2.35:1) 16x9 enhanced, Dolby Digital & dts 5.1
Starring Dennis Quaid, Jake Gyllenhaal, Ian Holm, Emmy Rossum, Sela Ward
Produced by Mark Gordon, Roland Emmerich
Screenplay by Roland Emmerich & Jeffrey Nachmanoff
Directed by Roland Emmerich