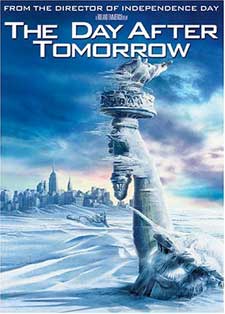 The Day After Tomorrow on DVD
As far as disaster movies go, The Day After Tomorrow is the most disastrous yet.
It features some of the best destruction scenes ever done, but the movie itself is pretty terrible.
After witnessing a big chunk of the polar ice caps breaking off, climatologist Jack Hall (Dennis Quaid) is worried about global warming bringing about a new ice age. He says it shouldn't happen for another 100 years at least, but he changes his mind when he sees Los Angeles destroyed by a series of tornadoes. Before long, the entire Northern Hemisphere will be completely covered with ice.
When Jack gets word that New York City has been flooded, he decides it's a good idea to go rescue his son, even though soon enough the entire city will be frozen solid. For the rest of the movie, it's basically a race against time to see who can survive.
The Day After Tomorrow is a tough one to call. On one hand, the special effects and disaster sequences are really cool. On the other hand, the movie really sucks. Like previous Roland Emmerich films, the first act is pretty hardcore and only hindered by its story (which in this case is extremely politically correct and not very well written - let alone well thought out). In the second act not much happens, but you keep going because you want to see more of what you got in the first act. And finally, the third act has some intense moments, but is an ultimately unsatisfying climax.
The filmmakers (and critics, and liberals) would like you to believe that if we don't stop doing what we're doing (i.e. global warming), the events in the movie will surely take place. Just as Al "Sore Loser" Gore. In fact, director Emmerich seems to have spent more time on his agenda (and in finding a Dick Cheney look-alike to play the evil capitalist Vice President) than he did on the script. And it must be noted that he even stole at least one shot from his own movies! In Independence Day, there's a shot of a fireball rolling down the street in Washington D.C. In The Day After Tomorrow, there's an almost identical shot of water rolling down the street in New York City. Both push cars high in the air as people scream and do their best to run away.
More could be said, but why? To put it as simply as possible, the first hour of the movie is well worth watching, provided you don't pay attention to what anybody is saying. The second half is pretty much a write-off, with a whole bunch of by-the-numbers action sequences you can see in better movies. Had it been made by a filmmaker with more talent than power, instead of the other way around, there's a good chance it could have been much better.
As a single disc, non special edition DVD, you can't ask for much better than this. Picture quality, presented in 2.35:1 anamorphic widescreen, is stunning. Colors are rich, and detail is phenomenally sharp. There are plenty of scenes filled with snow, which could generally cause problems, but you never have any trouble making out everything that's going on. This is the kind of movie that screams out for home theater, so you can be right there as the world blows up. In the audio department, you get your choice of Dolby Digital 5.1 or dts 5.1. Either will give you a fantastic feeling of envelopment as tornadoes fly all around you and water floods your living room (not literally, of course). The subwoofer rumbles nicely (if a little too much at some points), and even the score is subtly intense.
Roland Emmerich teams up with producer Mark Gordon for the first of two audio commentaries. It's pretty boring. It would have been nice to hear more about the special effects and the like than just hear the two drone on about…well, whatever. The second commentary is by co-writer Jeffrey Nachmanoff, director of photography Ueli Steiger, editor David Brenner and production designer Barry Chusid. It's a little better, as we learn more about everything, but none of the group will win awards for speaking. There's also an "Audio Anatomy" interactive sound demo, some deleted scenes, and over an hour of making-of footage that you can only access via your computer's DVD-Rom drive.
The Day After Tomorrow, from 20th Century Fox Home Entertainment
123 minutes, anamorphic widescreen (2.35:1) 16x9 enhanced, Dolby Digital 5.1 & dts
Starring Dennis Quaid, Jake Gyllenhaal, Ian Holm, Emmy Rossum, Sela Ward
Produced by Mark Gordon, Roland Emmerich
Screenplay by Roland Emmerich & Jeffrey Nachmanoff, Directed by Roland Emmerich