The da Vinci Code on DVD
It's part murder mystery, part "intellectual treasure hunt" and part fodder for conspiracy theorists.
Ron Howard's version of Dan Brown's best seller is an interesting flick that wasn't nearly as controversial as I'd expected given all the hype. Instead, it's a relatively straightforward tale set in the mysterious, shadowy world of secret societies and ancient legends.
Tom Hanks plays Robert Langdon, a "symbologist" who, on a gig to Paris,finds himself summoned by French police to the Louvre, where a strange series of clues was left at the scene of a grisly murder. He teams up with cryptologist Sophie Neveu (Audrey Tautou), who has a personal interest in solving the murder and the mystery behind it.
What they discover is that they've been drawn into the ancient search for the Holy Grail, a search movies before them have convered with various degrees of reverence, from Monty Python to Indiana Jones and others. The Holy Grail has been assumed traditionally to have been the cup Jesus used at the Last Supper. But was it?
Neveu and Langdon's search, motivated also by the fact that they're running for their own lives, takes them from the Louvre, through Paris and via a circuitous route across the channel to England. Along the way they try to decipher a secret that dates back to the time of Christ and could throw the very foundations of Christianity into turmoil.
It's hardly your typical Hollywood thriller formula, in that it tries to tackle (or at least use as crutches) some pretty big subjects, but Howard doesn't get bogged down in the dogma, or the history, and does a pretty good job of balancing the action with the cerebral.
Hanks does his typically believable job and he and Tautou work well together. Also along for the ride in this all-star cast is Ian McKellen, Jean Reno, Alfred Molina and Jurgen Prochnow.
If there were anti-Christian aspects of the book they aren't dwelled on in the movie, which (other than the actions of what appears to be a renegade sect of Catholics) treats the potential blockbuster potential revelations of the story as merely place markers on the road to the truth. I haven't read the book, so can't comment on those aspects, but there doesn't seem to be a lot here that should upset the religious.
On the other hand, while some Christians complained, their reaction to the movie was light years more measured than practitioners of another religion when faced with any kind of criticism – even if only via cartoon.
The DVD is being released as a two disc special edition, in both widescreen and Pan&Scan. Alas, we were sent the Pan&Scan version so it's hard to comment about the picture quality since we only got half the picture. But what we saw was fine, with good color and detail.
Audio is Dolby Digital 5.1 and it's good.
And since this is a special edition, you get plenty of extras. Here's a quick rundown:
Ten behind the scenes featurettes including:
· First Day on the Set with Ron Howard: the director introduces the film and the excitement of beginning production at the Louvre in Paris
· "The Da Vinci Code" author Dan Brown
· How Tom Hanks became Robert Langdon
· Who is Sophie Neveu?
· Magical Places
· Close-up on Mona Lisa
· The Filmmaking Experience (two parts)
· The Codes of "The Da Vinci Code"
· The Music of "The Da Vinci Code"
· "Da Vinci Code" Puzzle Game PC Demo (DVD ROM)
And more.
The da Vinci Code, from Sony Pictures Home Entertainment
149 min. anamorphic widescreen (16x9 TV compatible)/Pan&Scan video, Dolby Digital 5.1 surround
Starring Tom Hanks, Audrey Tautou, Ian McKellen, Alfred Molina, Jurgen Prochnow, Jean Reno
Produced by Brian Grazer, John Calley,
Written by Akiva Goldsman, directed by Ron Howard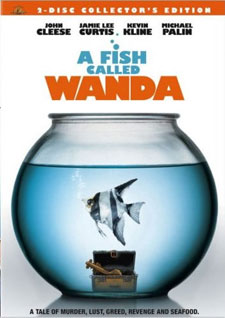 A Fish Called Wanda on DVD
Now a 2 disc Collector's Edition DVD, this "tale of murder, lust, greed, revenge, and seafood" is one of the meanest - and funniest - movies in a long time.
A small film created chiefly from the mind of Monty Python/Fawlty Towers luminary John Cleese, A Fish Called Wanda grew legs unexpectedly, not in an evolutionary manner à la Darwin, but in that it took off at the box office and became a much larger hit than had been expected.
It deserved to. Wanda is hilarious.
The story (and yes, there is a fish called Wanda in it) revolves around a small group of people, most of whom are decidedly nasty and one of whom is merely bored and frustrated with his comfortable but dead end existence.
The others, led by an American gold digger perhaps coincidentally named Wanda (Jamie Lee Curtis), her idiot of a lover Otto (Kevin Kline, who won an well-deserved Oscar for his performance) and stutterin' pet lover K-K-K-Ken (Michael Palin) mount (with Wanda's "lover" George as mastermind and fall guy) a jewel heist that'll set them up for life once they make their getaway.
But Wanda's the real mastermind and she and Otto set up George, who's thrown into jail for the crime. His lawyer, Archie Leach (Cleese) is working hard to get him acquitted, but along the way the ever resourceful Wanda lures him with her considerable feminine wiles, trying to find out through him where George secreted the diamonds so she and Otto can grab them and make themselves scarce.
Things would move more smoothly if not for Otto, who thinks he's an intellectual but who's just a vicious and egostical oaf. But here is the source for much of the film's funniest stuff, especially when it involves his relationships with Leach and Ken.
In the end, someone gets away with the diamonds and the stuffiest shirt actually gets the girl (proving that it pays to write your own screenplay), but along the way we're treated to a real howler of a film, politically incorrect and mean spirited in a most satisfying manner. It's smart, too, never dumbing itself down to be "mainstream" (whatever that is).
We also get to revel in Ms. Curtis' cleavage, dead dogs, dead fish, various assaults, all crafted by director Charles Crichton in the best tradition of his old Ealing comedies from days long gone by.
It's broad, yet there's a surprising amount of subtle little details that you notice on subsequent viewings - which makes owning a movie like this a better plan than merely renting it.
And to sweeten the deal, MGM has piled on the extras, and most of them are pretty good.
The movie itself looks good. Presented in anamorphic widescreen, 16x9 TV compatible, the picture does display some grain at times, but overall the image is nice and sharp and colorful. Audio is Dolby Digital 5.1 surround (though there isn't a lot of surround) and the quality is fine.
Then there are the extras. First up is a commentary by Cleese, and he's always worth listening to. There are also deleted/alternate scenes introduced by Cleese, a great documentary on the film ("Something Fishy"), as well as a bunch of other featurettes including a focus on Cleese. You also get a trivia track, a "Mug Shots" still gallery, and the trailer.
We're still laughing.
A Fish Called Wanda, from MGM Home Entertainment
108 min. anamorphic widescreen, (1.85:1, 16x9 TV compatible), Dolby Digital 5.1 surround
Starring John Cleese, Jamie Lee Curtis, Kevin Kline, Michael Palin
Produced by Michael Shamberg
Written by John Cleese, directed by Charles Crichton