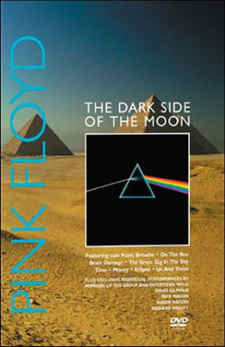 Pink Floyd - The Dark Side of the Moon on DVD
By Jim Bray
Wow! If you've loved this album since it crept into the "Me generation's" collective consciousness in 1973, you'll love revisiting its creation in this dynamic DVD release.
Part of VH-1's "Classic Albums" series, this DVD is a loving look at the crafting of the album that, according to "Ask Yahoo," spent 591.
I remember "Dark Side" fondly. It hit like a ton of bricks when it was first released; I've been through numerous copies of it since then, from the original vinyl release to the Ultradisc, to compact disc, and now to the Super Audio CD (and why, oh why, haven't they released it in DVD-Audio?). It's a masterpiece, bar none, one of the greatest rock albums ever made.
It made me a Pink Floyd fan. My previous experiences with Floyd had convinced me they were just some weird spacey band, and perhaps they were. Since "Dark Side," I've revisited earlier works and am a fan of everything from Atom Heart Mother on (except for "the Final Cut") - but it's Meddle (with "Echoes" and "One of These Days") that started Floyd onto their road to greatness, and Dark Side of the Moon that turned that road into a superhighway.
The music, the performances, the production, all combine to create not just a record, but an audio experience, and listening to the album today is just like listening to it thirty years ago - if only it had been recorded digitally originally!
So it was with gusto that I opened this DVD when it arrived. I had never seen the Classic Albums series on TV, so I didn't know what to expect. And I must admit that I was thrilled with this nearly 90 minute documentary.
It kicks off with the opening music/sound effects that kick off Dark Side, becoming a montage of tunes and comments, setting the scene beautifully. And all four Floyd members are there: Roger Waters, David Gilmour, Richard Wright and Nick Mason - a wonderful feature since they've long since gone their separate ways (especially where Roger is concerned). Yet here they are, in the recording studio again (though you can never tell if they're there at the same time), not only reminiscing about the genesis of the album, but playing excerpts from it "live" and letting us in on the production secrets that made this album such an aural experience.
Also on hand are Alan Parsons, who engineered the original release before going on to his own career as a band leader, and Chris Thomas, who's listed on the album as "mixing supervisor" but who (one gets the impression) was a unifying force that took the four divergent visions of the Floyds and from them helped hone the final sound of the album.
My favorite section was "Money," not so much because it's my favorite song on the album (it isn't) but because it gives a wonderful look at the crafting, mixing, and "sweetening" of the album.
It starts with Roger's memories about creating the memorable sound effects track, and stretching it across the room using a mic stand to give it the proper musical beat length, and continues through the recording of the individual tracks and the mixing - including adding reverb and other effects - and where the effects were dumped in favor of the raw sound, to great effect. It's not only a great look at a great song, it's a fascinating view of the recording studio itself.
But each track is dissected to varying degrees and you get musical and philosophical insights into the album and the band (well, Waters covers the latter to a certain degree).
There's also a set of extras, which is really welcome. A lot of it is more background on the album, and to be honest it would have been well suited to be included in the show itself (it appears to be "cutting room floor" stuff eliminated so the program would fit the allotted broadcast time). My favorite is the Dave Gilmour guitar segments, including some lovely pedal steel work.
The DVD is presented in anamorphic widescreen, 16x9 TV compatible, which is a very welcome surprise. The picture quality is excellent and watching it on a large, widescreen TV (we used a 57 incher) makes the animated sequences extra enjoyable.
Audio is Dolby Digital stereo (ah, we would've loved to experienced the new 5.1 surround mix) and it's also very good.
About the only disappointment was that they didn't include the entire album, audio only (or, better still, with the video material) as a bonus. I would have loved to have heard it in Dolby Digital; my CD sounds good, but it's a little thin and shrill in places - a common problem with CD's of older albums.
Bottom line? If you love this album, you should watch this DVD.
Pink Floyd, The Dark Side of the Moon, from Eagle Vision
84 min. anamorphic widescreen (1.78:1, 16x9 TV compatible), Dolby Digital stereo