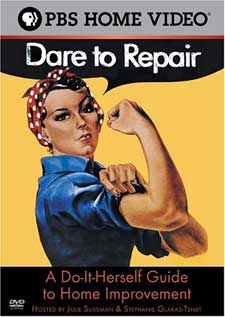 Dare To Repair, a Do-It-Herself Guide to Home Improvement on DVD
Billed as a "Do-it-Herself Guide to Home Improvement," this rather sexist-sounding disc is actually a fairly good introduction to the wonders (okay, maybe that isn't the best term!) of home repair.
Dare to Repair is a DVD of a PBS show hosted by Julie Sussman and Stephanie Glakas-Tenet, a couple of seemingly ordinary women whose husbands have jobs that keep them away for a lot of the time. Glakas-Tenet's husband, interestingly enough, is George Tenet, former head of the CIA in the United States, a position we can well imagine would leave him with little time to fix a faucet.
Sussman and Glakas-Tenet open the show with bios of themselves, outlining what possessed them to put on a tool belt in the first place (desperation and helplessness, mostly, coupled with that so-American "can do" attitude) then launch into a series of segments that, while so basic even this "repair-challenged" reviewer already knew the material, are a good launching pad into the wonderful world of home repair.
And simple the subject matter is, yet important. They start out by telling the live and at-home audience where to look for the home's main circuit panel and water main shut off. Then they show you how to handle such tasks as fixing a garbage disposal, unplugging a toilet, balancing a washing machine, and more.
They make it very easy and understandable (not that the tasks aren't anyway, once you've done them once) and with their easy and friendly delivery they take a lot of the potential for intimidation out of the subject matter. And while the show is obviously aimed at women, though they do pay lip service to the male half of the population, it's information that could save anyone hundreds of dollars (if not much more) over the years regardless of sex or lack of.
The ladies even leave the studio for a couple of jaunts to locations. One is to visit the home of a military wife and help her get up to speed with home repairs. It works well because it shows real world examples of what they've been illustrating in the studio but, because they've already illustrated it in the studio, it's rather repetitive.
The other jaunt is much more valuable because they visit a hardware store and show you what to look for in a variety of basic tools such as screw drivers, hammers and wrenches (wenches with wrenches? Sorry, couldn't resist the pun!)
Neither of these women comes off as slick and/or professional in the "typically TV host" kind of way, but that actually works to the program's benefit because we get to watch real people with real homes tackle real problems. And despite their "non-professionalism," their delivery is just fine and they sprinkle their presentations with enough humor and personal anecdotes to keep it interesting and human.
The DVD is presented in full frame video, which isn't 16x9 TV compatible, so owners of widescreen TV's prone to burn in will want to stretch/zoom the picture to fill the screen from corner to corner, but that's okay. You won't be destroying any widescreen vistas here. Picture quality is fine.
Audio is Dolby Digital and it's as good as you need from such programming material.
There are no extras.
Dare To Compare, a Do-It-Herself Guide to Home Improvement, from Paramount Home Entertainment
75 min. full frame (1.33:1, not 16x9 TV compatible), Dolby Digital
Hosted by Julie Sussman & Stephanie Glakas-Tenet
Produced by Roynn Lisa Simmons, Directed by Ed Gonsalves