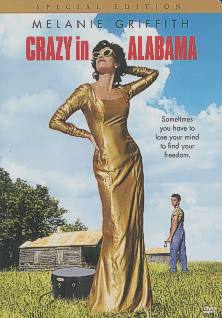 "Crazy In Alabama" on DVD
One Hot and Bothered Summer
Crazy In Alabama is movie star Antonio Banderas' debut behind the camera, and he's put together a pretty neat movie.
It isn't a knee slapping comedy, though it has its moments; it's more of a comedy/drama/time capsule that does a nice job of capturing the era and locale in which it's set.
The film is told through the eyes and narration of "Peejoe" a twelve year old kid growing up in Alabama during the hot summer of 1965. Banderas' real life wife, Melanie Griffith, stars as Peejoe's Aunt Lucille, a battered spouse who, before the opening credits, kills her husband and makes off with his head in a Tupperware cake tin.
Lucille, on the lam, leaves her kids with her mother and heads for Hollywood to pursue her dream of an acting career.
Meanwhile, things are going Crazy in Alabama as the civil rights movement heats up. Peejoe and the white people around him face an awakening awareness of the plight of their black neighbors and must decide on which side of the racial fence they want to live.
Aunt Lucille's odyssey West is kind of a cross between "Easy Rider" and "Thelma without Louise." You might think it's the crazy in "Crazy in Alabama" part of the movie for the first third of the film, though it mostly isn't in Alabama, but then it becomes obvious the film's as much about 1965 Alabama as it is about Aunt Lucille.
So "Crazy" is a bit screwball comedy, a bit social commentary, a bit character study, and a bit coming of age flick. Fortunately, it works on all those levels as Banderas shows he can do the job behind the camera as well as in front of it.
Melanie Griffith is an underrated actress, and her portrayal of Aunt Lucille is probably perfect for the part. She's a bit bimbo, but not really; a loving mother, but one who'll dump her kids to pursue her dreams; a smart cookie, but one who drags a disembodied head around with her incessantly for some strange reason.
David Morse plays her brother, a decent man who wants to see justice done for his black friends but who lacks the courage to go head to head against the entire establishment. Lucas Black is good as Peejoe and, in a surprising bit of casting, Meat Loaf Aday - from "Bat Out of Hell" rock music fame - does a good job as the bigoted small town sheriff. Rod Steiger is great as a crusty southern judge, and Cathy Moriarty and Robert Wagner are also good in what are really large cameos.
The DVD is in widescreen (2.35:1 anamorphic, digitally mastered) with digitally mastered Dolby Digital 5.1 audio. Picture and sound quality are superb, and director Banderas has made good use of the surround channels for some, well, off-screen comment by a "bit player."
The Special Edition disc offers lots of extras, including deleted scenes (with or without the director's narration), bloopers, full commentaries by Banderas and/or Griffith, and a photo montage with running commentary by the director. You also get a "making of" featurette, talent files, and trailers.
Crazy in Alabama, from Columbia Tristar Home Video
113 minutes, Widescreen (2.35:1), Dolby Digital
Starring Melanie Griffith, David Morse, Lucas Black, Cathy Moriarty, Meat Loaf Aday, Rod Steiger, Richard Schiff, Robert Wagner
Produced by Meir Teper, Linda Goldstein Knowlton, Diane Sillan Isaacs, Debra Hill, Screenplay by Mark Childress
Directed by Antonio Banderas