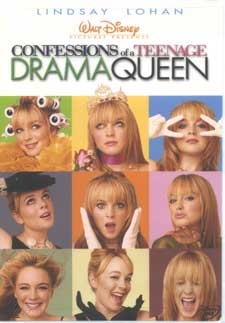 Confessions of a Teenage Drama Queen on DVD
There are chick flicks, and there are pubescent chick flicks.
Guess which one Confessions of a Teenage Drama Queen is.
Yessiree, if you're a female between the ages of 10 and 17, you'll probably love this story that combines the themes of following your dreams with Ebeing the new kid in town.
Lola (Lindsay Lohan) is moving from New York to New Jersey, and she isn't the least bit pleased about it. The girl from the Big Apple is starting at a new school, and the locals fomd ot within themselves to make fun of her for her uptown ways.
It doesn't help that Carla, the "Alpha female", feels threatened by Lola, and tries to ruin her reputation. Lola isn't cowed, however, and makes it a point to outdo Carla at just about everything they do.
Then, when the most wonderful band on the face of God's Green Earth announces it's going to split up, Lola and her best friend Ella plan a trip to New York to catch their final concert. Naturally, all doesn't come off as planned.
Confessions of a Teenage Drama Queen is fun, but most of the jokes are far too young girl friendly for it to be appreciated by a wider audience. And while most of us can relate to the trials and tribuations of the high school years, the "female focus" makes it hard to relate for males. Guess we're just a bunch of sexist pigs after all.
Lohan is charming; we first noticed her in Freaky Friday, and liked her a lot there. She does the "troubled teen" act well, there and here. Sara Sugarman's direction is good as well, and she calls upon some nifty effects to add to the fantasy feel of the movie.
But it's no Freaky Friday, nor is it Princess Diaries. On the other hand, it's fine for what it aspires to be - a lighthearted teen chick flick.
The DVD presentation is okay, but could be a lot better. The disc sports both 1.85:1 anamorphic widescreen and Pan&Scan transfers, and the picture quality is very good. Colors are bright and shiny, and the overall detail is very good.
Audio is presented in Dolby Digital 5.1, but it leaves something to be desired. The surrounds aren't exploited particularly well, offering only minor crowd sounds and the occasional music.
Extras include a commentary by director Sara Sugarman, screenwriter Gail Parent, and producers Robert Shapiro and Jerry Leider. There's also a 6-minute behind-the-scenes featurette, a deleted scene, music video, and trailers.
Confessions of a Teenage Drama Queen, from Buena Vista Home Entertainment
90 minutes, anamorphic widescreen (1.85:1) 16x9 enhanced & 1.33:1 full screen, Dolby Digital 5.1
Starring Lindsay Lohan, Adam Garcia, Glenne Headly, Alison Pill and Carol Kane
Produced by Robert Shapiro and Jerry Leider
Screenplay by Gail Parent, Directed by Sara Sugarman