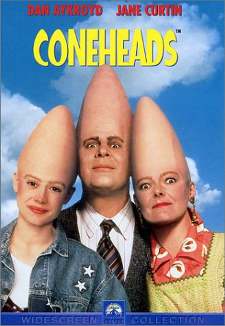 Coneheads on DVD
Shazbot!
Dan Aykroyd and Jane Curtin don their domes again in Paramount's 1993 throwback to the golden age of Saturday Night Live.
Dan is Beldar and Jane is Prymaat, a couple from far off Remulak sent to subjugate the Earth until they're forced into an emergency landing and must hide among the natives to survive. They settle into a middle class lifestyle, Beldar eventually becoming a driving instructor while Prymaat stays at home to raise their cone-domed (but all Earth teenager) daughter Connie.
The conflict is provided by an INS agent (Michael McKean) bent on seeing the illegal aliens deported to - wherever. He and his assistant (David Spade) finally catch up with the Coneheads just as they're retrieved to Remulak, but that doesn't stop his pursuit.
The movie is actually pretty good, much better than most of the SNL movie spinoffs, and is suitable family entertainment. It's basically your typical fish out of water tale, with some neat social commentary thrown in as the newcomers learn to cope with life in suburban USA.
Aykroyd and Curtin are fine as Ma and Pa Conehead, and all the old SNL skit gags are along for the ride as well - and fortunately, the audience isn't beaten over the head with any of them.
Laraine Newman, who was a bit old to play Connie when the film was made, has been replaced by Michelle Burke and she's fine in the role of the alien teenager who wants to fit in with her Earthling peers. Newman shows up in a cameo, as do an abundance of other SNL veterans including Chris Farley, Garret Morris, Jan Hooks, Phil Hartman, Adam Sandler, Kevin Nealon, Julia Sweeney, Tom Davis and Jon Lovitz.
Other cameos come from Dave Thomas, Drew Carey, Ellen Degeneres, Tom Arnold, Michael Richards, and Sinbad.
The DVD is presented in widescreen, 16x9 compatible, with Dolby Digital 5.1 audio. Picture and sound quality are very good, though not outstanding (which doesn't really work against what's basically a pretty lightweight and silly film - though we always pine for the optimum audio and video, of course). The only "extra" is the theatrical trailer.
Coneheads, from Paramount Home Video,
86 min, widescreen (1.85:1), 16x9 compatible, Dolby Digital 5.1
Starring Dan Aykroyd, Jane Curtin, Michelle Burke, Chris Farley, Michael McKean, David Spade
Produced by Lorne Michaels
Written by Tom Davis & Dan Aykroyd and Bonnie Turner and Terry Turner, Directed by Steve Barron.