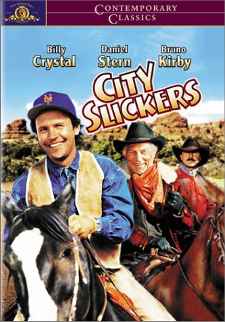 "City Slickers" on DVD
Don't Have A Cow, Man!
City Slickers 2: The Legend of Curly's Gold
Mitch Robbins (Billy Crystal) is a 39 year old New York City radio station ad salesman fed up with his life.
His two best buddies Ed (Bruno Kirby) and Phil (Daniel Stern) are equally angst-filled: Ed's beautiful wife wants to get pregnant and he's afraid, while Phil's sham of a marriage has just collapsed. Together, they embark on what they think will be an adventure vacation as cowboys on a cattle drive, hoping to find some meaning to their increasingly empty lives.
Naturally, they find a lot more than that for which they'd bargained. Rather than some sort of dude ranch, they're put onto an actual working ranch's cattle drive, complete with real cowboys who have real foibles of their own. Two of them are drunken horny bums who decide to make life miserable for the one woman "guest" (Helen Slater), while the trail boss is a crusty cowboy from the old school (Jack Palance, the Best Supporting Actor Oscar-winner), a vanishing breed who lives life by the code of the West.
Life on the range is a lot tougher than Mitch, Ed and Phil had imagined - not just physically, but emotionally and intellectually as well. Wisecracking Mitch in particular runs afoul of the real cowboys, especially Curly (Palance), who doesn't cotton to the pampered city boys he's seen come and go a million times before.
When some cattle go astray, Curly drags Mitch along with him to find them, as much to give him his comeuppance as anything - yet they form an unlikely bond in which they reach a grudging respect for each other.
Along the route, the city slickers learn a lot about themselves, their lives, and life in general and the movie basically becomes a kind of "coming of age" film that balances comedy and poignancy extremely well.
The performances are all very good, but the real star of "City Slickers" is the script by Lowell Ganz and Babaloo Mandel. They've crafted a story with real characters with whom we can readily identify (even Curly!), situations drawn from real life, and they've walked the fine line between laughs, tears, and messages extremely well.
City Slickers is a wonderful movie!
The DVD is presented in anamorphic widescreen, 16x9 TV compatible, with Dolby Digital "stereo surround" audio. The picture quality is a tad soft, but not excessively so, and the audio is fine. Extras are limited to the theatrical trailer.
City Slickers, form MGM Home Video
114 min. widescreen (1.85:1), 16x9 TV compatible, Dolby Digital Stereo Surround
Starring Billy Crystal, Daniel Stern, Bruno Kirby, Jack Palance
Produced by Irby Smith,
Written by Lowell Ganz and Babaloo Mandel, Directed by Ron Underwood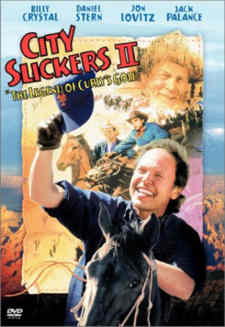 City Slickers 2: the Legend of Curly's Gold on DVD
Success breeds familiarity, so after the original City Slickers proved to be so popular it was undoubtedly inevitable that they'd revisit that particular watering hole.
And they have, though as is often true with sequels, it doesn't come anywhere close to being as good as the original. It isn't bad, though; at least they've tried to give us a ripping yarn rather than just exploiting the first movie.
Mitch Robbins (Billy Crystal), is back home from his earlier adventure as a dude on a real cattle drive. Curly (Jack Palance), who became kind of a mentor to him before finding his final home on the range in the original flick, is haunting his memory. In fact, he even thinks he sees Curly almost as if his late spirit is following him around for some reason. Then he discovers that inside Curly's hat, which he keeps in his New York-area home, is a treasure map that points the way to some 20 million dollars worth of gold that's there for the picking.
So he and his pal Phil (Daniel Stern), accompanied by his mooching n'er do well brother (Jon Lovitz), use the occasion of a convention in Las Vegas to set out on an adventure to find the lost treasure. Along the way they run into several amusing and some not so amusing situations, including coming face to face with Curly's long lost twin brother Duke (Jack Palance) who's also searching for his family's lost gold.
As with the first film there are some great locations (and this is one way in which the DVD's terrific picture quality really shines through), some welcome personal growth for the characters, and some entertaining moments for the audience.
This isn't a bad treasure hunt movie, either - and we really liked the ending, which proves that a treasure hunt movie doesn't have to end on a downbeat note.
The cast is good, and they have terrific chemistry. We missed Bruno Kirby at first, but Lovitz does a good job in his stead. Palance has great screen presence and while his character is proud to be a tough guy, he's a tough guy with substance and as he did with Curly in the first film, Palance does a great job of showing us the person beneath Duke's surface.
The DVD is terrific. Warners has given us a disc with spectacular color and wonderful detail, and this really pays off during the trek when we're treated to some lovely locations that look great in this anamorphic widescreen presentation that's compatible with 16x9 television screens. The look of this DVD makes it worth watching even if you don't like the story.
The audio has been remastered into Dolby Digital 5.1 surround and though there isn't a lot of surround the engineers have done a nice job overall, and the audio quality is to notch as well.
Extras include a feature length commentary featuring stars Stern and Lovitz and director Weiland, as well as a "making of" documentary." You also get cast/director/writer film highlights and the trailer.
An excellent DVD of a reasonably good sequel.
City Slickers 2: The Legend of Curly's Gold, from Warner Home Video
115 min. anamorphic widescreen (1.85:1), 16x9 TV compatible, Dolby Digital 5.1 surround
Starring Billy Crystal, Daniel Stern, Jon Lovitz, Jack Palance
Produced by Billy Crystal
Written by Billy Crystal & Lowell Ganz & Babaloo Mandel, directed by Paul Weiland