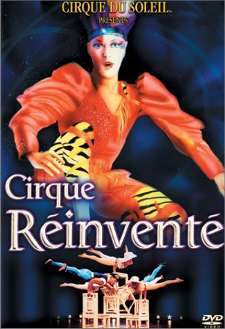 Cirque du Soleil on DVD
Acrobatic Magic
If you like Cirque du Soleil's combination of music, dance, and acrobatics, a quintet of Columbia Tristar titles will keep you enthralled for a few hours.
Some are better than others, however, and one of them is really just a documentary on the troupe from its beginnings in Canada to its assault on Las Vegas - not that that's necessarily a bad thing if you're interested in seeing how the Cirque got to where it is today.
A Baroque Odyssey is the documentary and it's pretty interesting, though DVD fans will be disappointed to discover that the video quality is all over the map. It's a ten year retrospective of Cirque du Soleil made in 1994, using their move to Vegas as the hook for the look back . You get interesting insights into how the founders conceived of the troupe and a lot of nifty backstage info showing how they come up with their spectacular shows. Audio quality is also spotty, and the film is presented in the original "full screen" aspect ratio of the TV program from which it was transferred. 56 min.
Journey of Man was originally a 3D IMAX presentation that has been "dumbed down" for television screens. You lose the 3D and the huge screen grandeur (unless you watch on a big screen TV, of course), but you still get a particularly arty look at the Cirque's view of human development from birth to maturity. This feature doesn't have a lot of the Cirque's usual acts, just a few very artistic gymnasts, but it's meant to be more of a celebration of music and light than an actual circus presentation.
And the colors and sound are terrific, though the film is not in anamorphic widescreen.
And that's okay, though we preferred the other discs that were recordings of actual circus performances. 39 min.
Which brings us to Nouvelle Experience, a recording of a Cirque du Soleil show that toured during 1990-91. This is the Cirque we've grown to know and love, and the acts here are wonderfully interesting.
Among the acts are a contortionist who seems to have no problem knowing where to turn, a Korean Plank acrobat act, a breathtaking solo trapeze artist, tightrope, aerial straps (see this!) as well as more conventional (though, by the time Cirque is through they're unconventional) trapeze, juggling Russian Bar, Trampoline and a fascinating act where a guy piles up ordinary wooden chairs while balancing on them.
Picture quality here is good, though it is once again the full screen aspect ratio. Audio quality is also very good, which really benefits the Cirque's unique musical treatments. 85
Cirque Reinvente
This production, when it was a TV show, apparently won an Emmy award and it isn't hard to see why. It's a record of the Cirque du Soleil's sold-out 1987 tour, and it includes some really remarkable acrobatic feats including "handbalancing," tightrope, cycling, chair balancing, contortion, and aerial acrobatics. With the odd clown bit thrown for good measure, of course.
The title is actually pretty appropriate, because Cirque du Soleil really has reinvented the circus, taking the traditional one-or-three ring extravaganza and transforming it into a multimedia sensory experience of sound, light, music, and acrobatics. This disc is an excellent introduction to the Cirque.
The video quality is good, though not great, but the sound is better. The picture is full screen and the audio is 2 channel stereo. 56 min.
Saltimbanco, according to the liner blurb, is "a celebration of life in which an international troupe of more than fifty performers ranging from 8 to 45 years of age defy gravity and dazzle with their artistry."
Okay, well it's also another good introduction to the Cirque, featuring top-notch acrobatic acts including hand-balancing, a double trapeze act and a double tightrope act. There's also "Chinese poles," the Russian swing, bangees, jugglers, and clowns. It's really quite amazing how the Cirque takes what in other circuses would be dazzling acts of derring do and balance and blends them with artistic lighting and music to create an all-new experience.
Created in 1994 the show is full of optimism and happiness. As usual, the video is full screen, but the picture is very good, and the audio (which is also very good) is 2 channel stereo. 78 minutes.