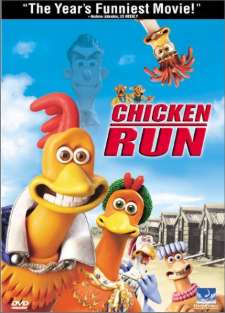 Chicken Run
Gumby meets Monty Python?
From the creators of the TV show "Wallace and Gromit" comes Dreamworks' "Chicken Run," a stop motion animation flick that's kind of a "The Great Escape" from the hen house.
Tweedy's chicken farm is an escape-proof prison for the hens, and once they stop laying eggs the evil Mrs. Tweedy takes them from the hen house and, well, we're not completely sure where they end up, but it isn't hard to guess that it isn't a pleasant way to go.
Ginger is a chicken who's smart enough not to spend her days running around like a chicken with her head cut off. She dreams of freedom, of leading a grand escape of all her associates to a place where they can live in safety, away from Mrs. Tweedy and her terminally-cowed husband.
Then, along comes Rocky, an American Rooster who looks as if he can fly - and Ginger's dreams come a step closer to reality as she and Rocky work out an arrangement by which he'll teach them to fly in return for their shelter and support.
Meanwhile, Mrs. Tweedy has come up with a scheme to make the farm more profitable - at the expense of the chickens' very lives: she's going to change from being an egg farm to a chicken pie maker.
Chicken Run isn't a laugh a minute; rather, it's a gentle comedy in the tradition of Britain's old style Ealing comedies and more recent fare like "Waking Ned Devine." You really learn to like Ginger - and the big oaf Rocky - and you positively hate the horrid Mrs. Tweedy and her ne'er do well husband, the latter of whom reminds us of Hyacinth's husband on the classic British comedy series "Keeping Up Appearances."
A note: in this politically correct age, it was good to see the villain of the piece being a woman. Women can be mean, too (they can be strong and good, too), though you might never know it from the way they're portrayed as perpetual victims in much of mainstream media.
The animation and the shots themselves are first rate, though we got a bit tired of every character having the same wide mouth made so famous in Wallace and Gromit (that's a pretty darn minor criticism, though!).
The "Special Edition" DVD is presented in anamorphic widescreen and fits the 16x9 TV screen completely. Dolby Digital and DTS-ES audio are terrific, as is the video quality. There are plenty of extras, too, including directors' commentary, DVD ROM components, a read-along featuring the film's script, and a couple of very interesting behind-the-scenes featurettes. You also get a Panic Button setting that doesn't really do anything but bring up a screen of chickens running about madly, and there's also a selection of trailers, liner notes, production notes, and even an Easter Egg or two.
Chicken Run, from Dreamworks Home Video
84 minutes, Widescreen (1.85:1), Dolby Digital/ DTS ES
Produced by Peter Lord, David Sproxton, Nick Park
Written by Karey Kirkpatrick, Directed by Peter Lord and Nick Park