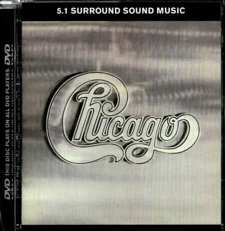 Chicago on DVD Audio
Chicago's second album is probably the band's most remembered, and this DVD-Audio version is not only a great trip down memory lane, it's a great audio experience as well.
"Chicago Transit Authority" blended rock with jazz and big band, bringing non-traditional instruments such as a horn section to pop music. It's an interesting blend of hard rock guitar, blazing horns, jazz and R&B textures blended seamlessly and nearly uniquely (remember "Vehicle" by Ides of March?) and with three distinctly different lead vocalists giving different songs different seasoning.
Chicago II was originally a 2 disc set and turning that into a single disc incarnation doesn't do anything to destroy the album's flow or feel. In fact it's better, because you no longer have get up off your duff and flip it over (or change discs). There's a blend of standalone songs such as "In the Country" and "Make Me Smile" as well as the tuneful "Ballet for a Girl in Buchanan" and the Anti-Vietnam war "It Better End Soon."
The latter suite is easily the weakest part of the disc, as it takes the music from light and airy to depressing and pretentious. We can understand, in the context of when this ablum was released, why it was there, but c'mon; as Laura Ingraham says "Shut up and sing!" Obviously, we weren't fans of this part of the album at all; fortunately, it's at the end and so you can easily just shut if off after "Memories of Love" – though to be fair that leaves the listening experience feeling incomplete - and not all of the antiwar suite sucks.
Besides such hits as "Make Me Smile," the Ballet for a Girl In Buchanan suite includes two of Chicago's classic hits: "Make Me Smile" (featuring some excellent solo guitar work) and the flautists' favorite "Colour My World." And melodies such as that on "Fancy Colours" stick to you, running around inside your head long after you've taken the disc out of the DVD player.
By the way, though this album may be known popularly as Chicago II, it's really titled Chicago, and though we kind of lost track of the band over the years, to us it represents Chicago at its very best, especially when you hold it up against such later tunes as "Feeling Stronger Every Day" which, while a nifty song, seems more "hard" and overproduced and deliberately "top 40" than the seemingly more personal tunes here.
Indeed, other than our problems with "It Better End Soon," we're hard pressed to find a song on this disc that we didn't like for one reason or another; there are even some we didn't care for musically but which we thought made excellent demo discs to show off the home theater and DVD-Audio technology.
And so far as the sound is concerned, we're very pleased with this DVD-Audio. It features 5.1 surround and stereo versions, so purists can partake of the stereo mix enhanced by DVD-A's high resolution output while the adventurous (or those willing to paint a moustache on the Mona Lisa, depending on your outlook) can partake of a nifty surround mix that envelops the listener with instruments.
Unlike other discs that use the surround tracks to create a more "live" sound, this 5.1 mix does surround you with instruments, but overall they've done a nice job with the remix. Instruments come at you from all around, at least periodically, but never at the expense of the music. And though, to purists, it's undoubtedly gimmicky it never really sounded gimmicky to us.
Overall sound quality, regardless of whether you use the stereo or 5.1 version, is excellent. This thirty-some year old album sounds terrific, as if it were recorded much more recently. It ain't perfect, but it's probably as close as you can get from an older analog recording.
The disc also includes a decent liner booklet that gives some good insight into the album and the band Chicago of the time. There's also a photo gallery.
We heartily recommend this disc both for its sonic and its musical quality.
Track listing:
1. Movin' In
2. The Road
3. Poem For The People
4. I the Country
5. Wake Up Shineshine
6. Make Me Smile
7. So Much To Say, So Much To Give
8. Anxiety's Moment
9. West Virginia Fantasies
10. Colour My World
11. To Be Free
12. Now More Than Ever
13. Fancy Coours
14. 25 Or 6 To 4
15. Prelude
16. A.M. Mourning
17. P.M. Murning
18. Memories Of Love
19. 1st Movement
20. 2nd Movement
21. 3rd Movement
22. 4th Movement
23. Where Do We Go From Here