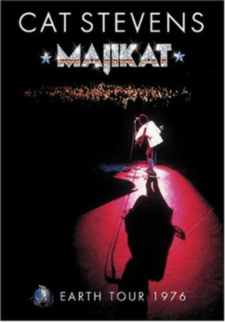 Cat Stevens Majikat on DVD
Cat Stevens was an influential musical force in the 1970's – then all of a sudden he seemed to disappear. This DVD will show you why he was so influential, and why he quit the business.
Majikat is a live concert from 1976, about a year and a half before Cat Stevens hung up his guitar. It's a terrific show, a wonderful concert featuring some of his most famous songs, with Stevens moving from guitar to piano and back again, accompanied by an excellent back up band that included musicians who had also traveled with him on his journeys through the recording studio.
I was a Cat Stevens fan from "Tea for the Tillerman" to about "Buddha and the Chocolate Box," after which our musical tastes began to diverge. But his older classics, including the masterful "Father and Son" (which I loved as a son and now understand and love even more as a father), the mega-hit Peace Train and his many other singles were beautifully catchy songs, performed and recorded in a kind of minimalist way that differentiated his sound from that of other "rock" performers.
Stevens was actually more folk than rock, kind of a 1970's throwback to the folk wave of the late 50's and the 60's, a spiritual brother to Peter Paul and Mary, Gordon Lightfoot, and the New Christy Minstrels, among others. And that's fine.
But back to Majikat, a blast from the past you really should experience. Most of the big hits are here, broken up by Stevens' warm commentary (except for one moment where he nearly flies off the handle because a roadie had taped his microphone stand and he couldn't adjust it) and augmented by a perfectly synchronized filmed accompanying the song Banana Gas. There's even a magic act, sort of - and in fact, Stevens' entrance onto the stage is part of the magic act, and it's a neat way to make a dramatic appearance!
It's a great DVD, a welcome addition to one's collection of musical programs. Unfortuantely, it's presented in the 4:3 aspect ratio (it was probably originally meant for TV), so owners of widescreen televisions prone to burn in will want to stretch and/or zoom the picture to fill the screen. That's what I had to do, but even then the picture quality is just fine.
But it's the audio quality that's most important on such a disc, and I'm pleased to say that the sound is excellent. It's obviously an analog source, but it's very clean and real and features good dynamics. You can choose from Dolby Digital or dts 5.1 surround, as well as Dolby Digital stereo, and though your rear channels won't get a workout (indeed, most of the sound comes from the center front), the music comes through loud and clear.
I was also thrilled at the very informative contemporary interview with Stevens (now Yusuf Islam), which gives you a chance to hear from his own lips his tales of his career from beginning to the end, including his insights on his journey to Islam.
You also get extra songs, including a animated version of "Moonshadow" and a promotional video of "Father and Son." You even get a reproduction of the original program from the tour.
All in all, a nice walk down musical memory lane.
Track Listing:
1.The Doves (Majikat Tour Theme)
2.The Wind
3.Moonshadow
4.Where Do The Children Play
5.Another Saturday Night
6.Hard Headed Woman
7. Miles From Nowhere
8.King Of Trees
9.Sun/C79
10.Lady D'Arbanville
11.Banapple Gas
12.Majik Of Majiks
13.Tuesday's Dead
14.Oh Very Young
15.The Hurt
16.Sad Lisa
17.Two Fine People
18.Fill My Eyes
19.Father & Son
20.Ruins
21.Peace Train
Cat Stevens Majikat, from Eagle Vision
135 min. full frame (1.33:1, not 16x9 TV compatible), Dolby Digital 5.1, dts and Dolby Digital stereo