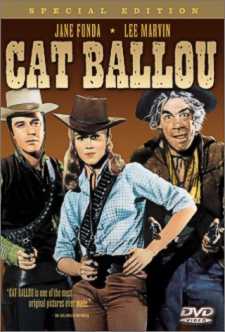 "Cat Ballou" on DVD
Wild, Wooly, Whacky
It's a Hangin' Day in Wolf City, Wyoming, when Columbia Tristar's DVD release of the classic western comedy Cat Ballou opens.
Catherine Ballou, the town's new school marm, is about to be at the swinging end of the rope after having murdered the rail tycoon who owns the town.
It was an act of revenge on Cat's part. You see, she had recently returned home from school to take up her duties, only to find her dad (John Marley) was being targeted by the for his water rights - and was killed for it by a hired gunman brought in by said tycoon.
The murder happened despite Cat's hiring of her own gunman, the legendary Kid Shelleen (Lee Marvin's Oscar-winning role), who's now a boozed out burned caricature of his former self. Heartbroken, Cat Ballou and her gang - Shelleen, her father's Indian hired hand, a horny small time outlaw, and his con-man uncle, move to Hole in the Wall to mount a reign of terror on Wolf City and its folk.
Cat Ballou was an early star vehicle for Jane Fonda, and she's perfectly cast in the role of the ingenue who goes bad. Besides Marvin and Marley, she's joined by Michael Callan and Dwayne Hickman, with Nat "King" Cole and Stubby Kaye along for the ride as an invisible (to all but the viewer) "Greek Chorus" who provide a musical play by play commentary.
It's a farce that plays like one, and is enjoyable as such, but there are also some fairly touching moments, including when they arrive at Hole in the Wall looking for support, only to find that Butch Cassidy and his gang are all old and washed up and interested only in being left alone.
The DVD is presented in widescreen and Pan&Scan on opposite sides, and the digitally mastered picture looks great. The digitally mastered audio, which is Dolby Digital Mono, isn't as good as the picture, but it's okay. For extras, you get a "making of" retrospective documentary featuring director Elliot Silverstein and an audio commentary from tag team actors Hickman and Callan. There's also a section with talent files and vintage advertising, as well as the usual trailers etc. A decent essay is inside the box.
Perhaps it isn't a major classic, but Cat Ballou is definitely a minor one, and it was a big hit when it first premiered in 1965.
Cat Ballou, from Columbia Tristar Home Video
96 minutes, Widescreen (1.85:1)/Pan&Scan, Dolby Digital mono
Starring Jane Fonda, Lee Marvin, Michael Callan, Dwayne Hickman, Nat King Cole, Stubby Kaye
Produced by Harold Hecht
Written by Walter Newman and Frank R. Pierson, Directed by Elliot Silverstein