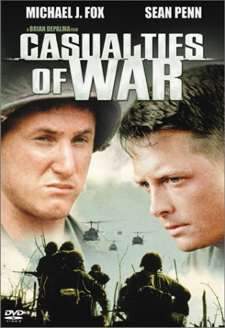 Casualties of War on DVD
This Brian De Palma film is supposedly based on a true story that happened during the Vietnam war. It's a tale of a military whistleblower (Michael J. Fox) whose conscience won't allow him to partake in the abduction and rape of a Vietnamese girl organized by his squad leader (Sean Penn).
After an ambush in the field that leaves his closest friend in 'Nam dead, and after having been barred from the local brothels, Penn designs the scheme to kidnap a Vietnamese woman from her home and take her along on their next patrol to use as a "pleasure unit."
It's a horrible concept indeed, brought about by Penn's frustration with the situation in which he finds himself, and Fox argues against and refuses to participate in the "adventure." This puts him at odds with his mates, who feel they can no longer trust him - and trust is the one thing they need to have between each other in the fields of fire.
The girl ends up being murdered, which pushes Fox's character into reporting the incident to his superiors. Rather than being grateful to be given the opportunity to excise a cancer from their units, however, they treat Fox as the villain of the piece, for rocking the boat.
Penn is excellent, frighteningly tough as the sergeant, and Fox also turns in a very good performance as the idealistic soldier with the courage of his convictions. Director De Palma does a good job of re-creating the crime and the time, and you really feel for the poor victim through her long hours of horror and torment.
The supporting cast is also strong.
The DVD looks and sounds gorgeous. It's presented in digitally mastered anamorphic widescreen video with Dolby Digital 5.1 sound; colors are rich (Vietnam movies have a real opportunity to take advantage of the beautiful greens of the jungle, and this one doesn't disappoint) and the picture is sharp; the audio makes good use of the surround channels and the explosions and ordnance sounds really good.
There's also some really nice pan flute in the musical score.
Extras include "Eriksson's War," a conversation with Michael J. Fox about his thoughts of the incident and the movie, a featurette "The Making of Casualties of War," deleted scenes, production notes and trailers.
It's too bad the subject matter of this film is so ugly, because it's a gorgeous audio and visual treat otherwise.
Casualties of War, from Columbia Tristar Home Video
114 min. anamorphic widescreen (2.35:1), 16x9 TV compatible, Dolby Digital 5.1
Starring Michael J. Fox, Sean Penn,
Produced by Art Linson
Written by David Rabe, Directed by Brian DePalma