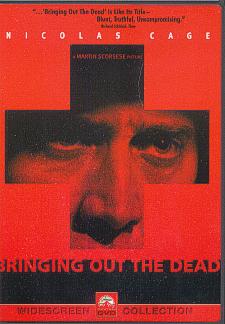 "Bringing out the Dead" on DVD
Ambulance Chasing
Martin Scorsese's "Bringing Out the Dead" is the story of a paramedic (Nicolas Cage) undergoing a crisis of faith.
He's doing the job for all the right reasons, but has seen himself unable to save too many people too many times. He's burned out, depressed, and haunted by the ghost of a past lost love's life.
One night he saves a man's life and meets his daughter Mary (Patricia Arquette), who has plenty of her own problems. Together they try to exorcize each other's demons and cope with life.
Cage's Frank Pierce is definitely haunted - to the point where he hears voices and sees faces. At one point, he can hear an old man on life support beg him to let him die, which goes against everything for which he's worked all his career. In the end, he does the right thing, though that "right thing" may not be what you expect from this "healer."
Co-starring John Goodman, Ving Rhames, and Tom Sizemore, "Dead" offers an unusual look into the lives of these angels of mercy. We're shown an all-too-human bunch of people who, despite their heroics, are far less heroic than one might think. We have no idea how close this look is to reality, but it's interesting nonetheless and Scorsese fills the movie with memorable images and sounds.
Paul Schrader's screenplay is intelligent, but dark, and the insights we get into hospital demeanor make us not want to get sick ever again - at least not at this particular Big Apple institution. Then again, if we had to go through - and put up with - the same situations these people face every day, we might not be any different.
The DVD is presented in widescreen, Dolby Digital, and audio/video quality are wonderful. The widescreen is enhanced for 16x9 TV's, which is nice. Extras are limited to a pair of theatrical trailers, some cast/crew interviews, and the usual subtitle/language choices and chapter stops.
Bringing out the Dead from Paramount Home Video
121 minutes, Widescreen (2.35:1), Dolby Digital
Starring Nicolas Cage, John Goodman, Patricia Arquette, Ving Rhames, Tom Sizemore
Produced by Scott Rudin and Barbara De Fina
Written by Paul Schrader, Directed by Martin Scorsese