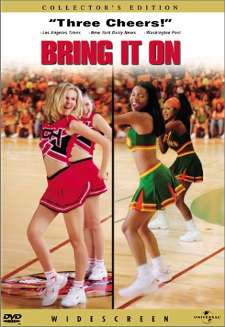 "Bring it On" on DVD
Cheerful Comedy
What looks at first to be a typical teen sex romp turns out to be a pretty decent "pursuit of excellence" movie in Universal's Bring It On.
Kirsten Dunst stars as Torrance, the newly-named captain of the five time National Cheerleading Champion Toros. She takes over the squad determined to guide them to a sixth title, over sniping from the standard buxom bimbos who want to see her fail.
Her life flashes before her eyes, however, when a new recruit to the team (Eliza Dushku) drives her up to an East L.A. high school and shows her that the Toros' routines were all ripped off from the squad there, a squad that should be in the national competitions, but which can't afford the trip. Torrance's predecessor on the Toros had been videotaping the Clovers' routines and passing them off as her own creations!
What to do? Torrance is mortified; she's far too honest to let her team push purloined routines, but time is short until the Regionals.
Using a car wash, she and the team raise money to hire a professional choreographer to train them in new routines, and everything appears to be swell - until the Regionals, where it becomes obvious that their choreographer had been going up the California coast, teaching other squads the same routines.
So it's back to square one, but this time Torrance takes the bull by the horns herself and they begin designing brash new routines themselves, just in time for the Nationals.
Meanwhile, Torrance is torn between her old boyfriend, who has gone off to college and pretty well forgotten her, and a new opportunity with a guy she really likes.
There's a lot more to "Bring It On" than just cheerleading. It's about building character, friendships, loyalty and trust, and relationships - and the movie manages to pull off each of those themes with skill, grace and good humor.
As mentioned at the beginning, we went into the movie expecting a superficial piece of fluff and were pleasantly surprised. The movie has substance and heart, and it even manages to slip in a couple of messages about right and wrong, all without beating the audience over the head with it.
As a DVD, this special edition disc has a lot to offer as well. The audio (Dolby Digital 5.1 and DTS) is wonderful, and the anamororphic widescreen (16x9 TV compatible) is just great. The colors (which, considering there is an abundance of cheerleader uniforms, is extra important here) are vivid and rich.
Extras abound as well, including a feature commentary by director Peyton Reed, a "Spotlight on Location" featurette, and some deleted and/or extended scenes. There's also a "home movie" of the car wash scene, though there isn't really much there that isn't already in the movie (and, no, there's no nudity).
Interestingly, Universal has also included "Did You Know That?", a series of animated anecdotes (kind of like Pop Up Video) that give insight into the film. You also get the trailer, some DVD ROM stuff, and a music video by Blaque.
Want to see a far above average movie about teenagers? Bring it on.
Bring it On, from Universal Video
99 minutes, Widescreen (1.85:1)16x9 TV compatible, Dolby Digital 5.1 and DTS
Starring Kirsten Dunst, Eliza Dushku, Jesse Bradford
Produced by Marc Abraham, Thomas A. Bliss
Written by Jessica Bendinger, Directed by Peyton Reed