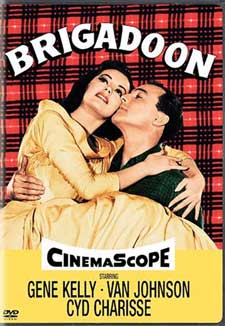 Brigadoon on DVD
A wonderfully charming musical fantasy, Brigadoon is a tale about the power of love, set in the Scottish highlands and revolves around a magical village that appears out of the mist every 100 years.
Fortunately, for our story purposes, the village appears out of the mists just as two American friends on a hunting trip arrive in the picturesque valley, lost and looking for directions. Had they arrived a day earlier or a day later we'd have no movie, so it's good that their timing was perfect.
And what a lovely village is Brigadoon, nestled amongst the Scottish peaks and populated by a charismatic gaggle of characters.
Tommy Albright (Gene Kelly) is engaged to be married back in New York City, but he keeps putting it off because deep in his heart he's looking for something else. And in Brigadoon, that something else (Fiona Campbell, played by Cyd Charisse) rears her lovely head almost immediately, and he's never the same again. His buddy, played by Van Johnson, is a cynical drunk who represents the "reality" to Brigadoon's "fantasy," and it isn't hard to see why Tommy would choose the fantasy over the reality.
But in order to do that he has to leave everything behind from his former life and embrace the magic of the little village, disappearing with it into the mists only to emerge every 100 years. Not surprisingly, he's reluctant to do that and, in fact, leaves with his friend and goes back to the Big Apple to resume his life.
Alas, he can't get Brigadoon out of his head; even an innocent phrase will set his mind off on a memory trip in which he hears Lerner and Loewe tunes that were sung in Brigadoon while he wasn't even on screen! This is one seriously in love dude and eventually his feelings for the lovely Fiona drag him back to the highlands so he can look once more upon the ground where his love sleeps through her century-long night, forever lost to him.
And there's where the power of love to change the world comes in really handy!
Brigadoon was directed by Vincente Minelli and choreographed by Kelly, from the musical by Alan Jay Lerner and Frederick Loewe. The whole shebang appears to have been shot indoors, on sound stages, but despite that most of it take place outside in and around Brigadoon and the production designers and set builders really did a remarkable job. The film looks terrific, the performances are wonderful, and the story is charming and utterly romantic.
Warner Brothers' new DVD features a new 16x9 widescreen TV compatible digital transfer of the movie using the aspect ratio of 2.55:1. Overall, it's pretty good, though it appears that the film needs more than a new digital transfer: it needs to be restored. The DVD picture is generally sharp, though there's definitely grain in evidence, but it also looks a tad washed out and this affects the usually so vibrant color found in these old time musicals.
Audio is supposedly remastered in Dolby Digital 5.1 and perhaps it is. There's little or no surround, though, not that it bothered us a whit. What you do get is the three front channels spreading music and dialogue across the room in front of you and that's fine. Overall audio quality is good, but not spectacular, and this isn't surprising for a soundtrack dating from 1954.
Extras include three outtake musical numbers ("Come To Me, Bend To Me," "From This Day On" and "Sword Dance") as well as an audio outtake of "There But For You Go I." You also get the trailer.
Brigadoon isn't remembered in the same breath as My Fair Lady, Oklahoma or the Sound of Music, but that doesn't detract from its strengths as a lovely story with likeable characters living a dream that, at one time or another, most of us have undoubtedly had while coping with the rushes of modern life.
Brigadoon, from Warner Home Entertainment
108 min. anamorphic widescreen (2.55:1, 16x9 TV compatible), Dolby Digital 5.1
Starring Gene Kelly, Cyd Charisse, Van Johnson, Albert Sharpe
Produced by Arthur Freed
Written by Alan Jay Lerner and Frederick Loewe, directed by Vincente Minelli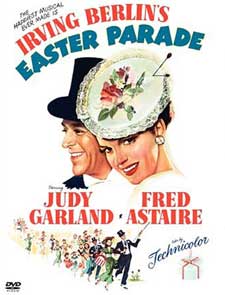 Easter parade on DVD
Judy Garland's singing, Fred Astaire's dancing and Irving Berlin's music shine in this holiday film that has received a new digital transfer from the folks at Warner Brothers.
Astaire is Don Hewes who, not surprisingly, is a dancer. But his life is thrown into a tizzy when his longtime dancing partner, Nadine (Ann Miller), leaves him to go solo. Bound and determined to show the world he doesn't need her anyway, he announces that he can pick any chorus girl at random and make her a star – kind of like "My Fair Lady" without the cockneys.
As it turns out, he's lucky enough to pick Hannah Brown (Judy Garland), who proves to be a lot more than just a young girl who once left Kansas by unconventional means. The rest, as they say, is movie history.
This is a delightful film and you'd never know about its apparent birthing problems. We've read that Astaire actually came out of retirement to take this role after Gene Kelly was injured, and that Garland was quite ill during production. Any behind the scenes scrambling doesn't show, and you don't miss Kelly, which is quite a statement!
And how can one complain about another score by the great Irving Berlin. Not all the songs here were new for this film, but we've heard Berlin songs recycled through movies before (White Christmas comes immediately to mind, if only for its title song) and it never bothered us.
And the movie seems tailor made to showcase the talents of its stars. We get to see Astaire's legendary dancing in such numbers as "Drum Crazy" and "Steppin' Out with My Baby" and Garland's famous vocals in such songs as "Better Luck Next Time."
And things get even better when they perform together, especially in "We're a Couple of Swells."
In the end, Easter Parade is a marvelous movie musical experience that has earned its Easter holiday standard status as much as It's a Wonderful Life earned its Christmas holiday classic status.
Easter Parade is one of those classics that it's wonderful to have in your collection as a Hollywood treasure you can pass on to your kids.
The new DVD features a new, digital transfer from restored picture and audio elements and the full frame (not 16x9 TV compatible) color picture looks, for the most part, great. We love the look of "old Hollywood" Technicolor and on this transfer it comes through bright and clean and crisp.
Audio is Dolby Digital mono and sounds pretty good, if a tad thin.
Then there are the extras. This single disc set (a two disc set is also available, but we didn't receive it) includes a running commentary performed by Fred Astaire's daughter Ava Astaire and John Fricke, Judy Garland's biographer. You also get a new "making-of" documentary: "Easter Parade: Beyond the Avenue" and an American Masters documentary profile: "Judy Garland: By Myself."
Also on tap are an outtake musical number "Mr. Monotony" and the audio-only bonus of a radio production. There's also a radio promo and a gallery of Judy Garland trailers.
Easter Parade, from Warner Home Entertainment
103 min. full frame (1.33:1, not 16x9 TV compatible), Dolby Digital mono
Starring Fred Astaire, Judy Garland, Ann Miller, Peter Lawford
Produced by Arthur Freed,
Written by Sidney Sheldon, Frances Goodrich and Albert Hackett, directed by Charles Walters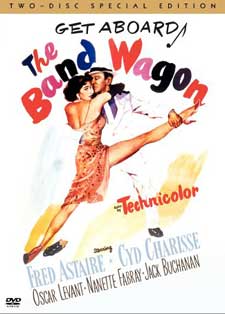 The Band Wagon on DVD
Another great Vincent Minelli musical originally from MGM and now brought to us by Warners is The Band Wagon.
Fred Astaire teams up with Cyd Charisse in the musical that brought us the now-famous number "That's Entertainment!"
Astaire plays fading film star Tony Hunter who decides to take another kick at the can by going back to his Broadway roots. His playwright/songwriter friends (Nanette Fabray and Oscar Levant) get him hooked up with director Jeffrey Cordova (Jack Buchanan).
The Band Wagon does a fantastic job of blending great music, dancers, actors and laughs, offering us a perfectly-cast troupe in a wonderful movie musical. And the musical numbers are frequent and wonderfully entertaining.
Songs include "By Myself," "Shine on My Shoes," "I Guess I'll Have to Change My Plans" many, many more. The songs are courtesy of Howard Dietz and Arthur Schwartz and the screenplay was by the classic team of Betty Comden and Adolph Green.
If you love movie musicals and haven't seen The Band Wagon, you really owe it to yourself to plop your butt down in your home theater and revel in the magic of this magnificent classic.
The DVD features a new digital transfer from newly restored elements. It's very good, though the color is just a tad washed out. It's presented in its original full frame (1.33:1, not 16x9 TV compatible) aspect ratio.
Audio is remastered into 5.1 and though, as usual, you don't get a lot of surround you do get a fairly nice soundstage across the front three channels.
Extras include a commentary by director Vincente Minelli's daughter Liza accompanied by Michael Feinstein, a vintage documentary "The Men Who Made the Movies: Vincente Minnelli," the outtake musical number "Two Faced Woman," plus some dailies.
There's also a musical short "Jack Buchanan with the Glee Quartet" and a gallery of Fred Astaire movies.
The Band Wagon, from Warner Home Entertainment
112 min. full frame (1.33:1, not 16x9 TV compatible), Dolby Digital 5.1
Starring Fred Astaire, Cyd Charisse, Oscar Levant, Nanette Fabray, Jack Buchana
Produced by Arthur Freed
Written by Betty Comden and Adolph Green, directed by Vincente Minelli