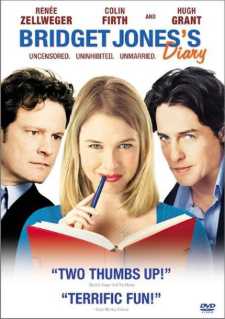 Bridget Jones's Diary on DVD
A Good Man is Hard to Find
Bridget Jones's Diary is basically the same story as "Someone Like You," theAshley Judd/Greg Kinnear/Hugh Jackman flick - except with the men reversed.
Well, okay, that really isn't fair. "Bridget" is also a better movie, better written and directed and with more engaging characters. The plot is actually ripped off from Jane Austen's Pride and Prejudice, a fact freely admitted to by novelist Helen Fielding, whose story this is.
Bridget Jones is a thirtysomething-ish woman, a big overweight and with bad habits like enjoying a tad too much of the demon alcohol. She doesn't really feel as if her life is together, mostly because that life she doesn't have together doesn't have a man in it. She isn't as bad off as she thinks, but that's typical of many of us, isn't it?
Bridget works as a publicist in a publishing house. Her love life is so bad that, at the film's opening, her mother tries to set her up at a Christmas party with lawyer Mark Darcy (played by Colin Firth), in whose wading pool Bridget apparently plopped around naked back when they were both young' uns.
That pairing doesn't work out, probably because Darcy seems like such a pompous ass, but shortly thereafter Bridget finds herself in the arms, and bed, of her boss Daniel Cleaver (well played by Hugh Grant). As in "Someone Like You," however, her affair with Daniel doesn't work out; she finds him with another woman in his apartment, and that's pretty much it - though she never really really loses her affection for the cad.
Through the course of the film, Bridget and Mark edge slowly closer together, at least in their subconscious, until near the film's climax they're finally about to get together, only to have it blow up in Bridget's face. Will they really end up together and live life together happily ever after to a ripe old age?
Watch the DVD to find out.
Sharon Maguire has crafted a warm comedy with some genuinely funny moments, and the cast is alternately charming and annoying, depending upon the situation. Zellweger gained weight for the film and learned just the right British accent for the role, and she pulls it off extremely well. Firth and Grant also play their parts to the "T."
There isn't a lot of "diary" in Bridget Jones's Diary (it's kept mostly inthe background or referred to in voiceover), but that's okay: there's plenty of Bridget, and that's the way it should be.
The DVD is presented, as it should be, in anamorphic widescreen, 16x9 TV compatible, with Dolby Digital 5.1 sound. The audio and video quality are very good; the picture's a tad soft in places (probably deliberately), and there isn't a lot of surround sound info - but there's a terrific selection of musical numbers in the soundtrack that more than makes up for it.
Extras include a really good documentary on the film's (and, to a certain extent the novel's) genesis, as well as a feature commentary with director Sharon Maguire. You also get a couple of music videos and some of the original columns from "Bridget Jones's Diary." There are also some deleted scenes.
Bridget Jones's Diary, from Alliance Atlantis Home Video
98 min. anamorphic widescreen video (2.35:1), 16x9 TV compatible, Dolby Digital 5.1
Starring Renee Zellweger, Colin Firth and Hugh Grant
Produced by Tim Bevan Eric Fellner Jonathan Cavendish
Written by Helen Fielding and Andrew Davies and Richard Curtis, Directed bySharon Maguire.