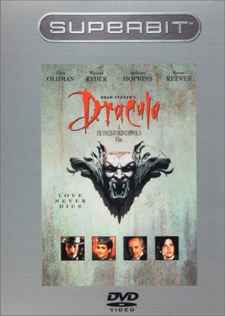 Bram Stoker's Dracula, the Superbit Collection
Coppola Bites?
Francis Ford Coppola's take on the vampire tale supposedly goes back to the original novel, offering a much broader tapestry on which to paint his cinematic vision than the limited 1931 Bela Lugosi vehicle.
Which is better? You can't argue that the Lugosi Dracula was a spectacular characterization, but on the whole Coppola's film is a better movie for today. It's lush and beautifully filmed, with audio and visual images that at times make your flesh crawl, and it more successfully balances the eroticism and the horror that is the vampire legend.
And Columbia Tristar's Superbit treatment doesn't hurt!
Dracula was a 15th century Transylvanian warrior who, when his love dies, forsakes God and is sentenced to spend eternity as a living creature of the undead, feasting on the blood of the living. Which begs the question "What if he can't find blood? Does he die again?"
Anyway, in this version, Renfield (Tom Waits) is already in the loony bin in London, eating his insects and arachnids, and young Jonathan Harker (Keanu Reeves) is sent to Transylvania to close the transaction in his place. He's imprisoned there by the dark count, and kept weak and haunted by some buxom female vampires who hang out (well, they're bats!) in the castle.
Meanwhile, his fiancé Mina (Winona Ryder) waits impatiently for his return - but is sidetracked by the arrival of a mysteriously attractive foreigner who happens to be Dracula himself (Gary Oldman, in a typically fine performance). Dracula has already begun sucking the life from her best friend Lucy (Sadie Frost), prompting one of her would be lovers to enlist the aid of noted doctor (and, fortunately, vampire expert) Prof Abraham Van Helsing (Anthony Hopkins) to find out what's ailing the woman.
The scenes with the possessed Lucy and the three vampire women in Dracula's castle bring the abovementioned eroticism blended with horror to the film, yet despite the nudity and sexuality they're handled matter of factly by the sure hand of director Coppola. More horror comes from Dracula's penchant for shape shifting, his stop at nothing bloodthirstiness, and the manner of ending a vampire's "non life," which in this version more closely stays with the tried and true formula than a mere stakeout.
In all, while it has its moments of silliness (or, at least, lack of tension), on the whole the film works very well. It's dark and brooding, with good action scenes and believable (well, this is Dracula after all) characters and characterizations. Oldman is great, as usual, in the title role, Ryder puts on a good English accent and performance as his love interest, and Hopkins is always good, though he appears a bit over the top at times in this production.
Reeves has been pilloried for his portrayal and, while it may be the weakest part of the film, he isn't bad - though his English accent isn't up to Ryder's (we're not even sure it's there).
This DVD is another of Columbia Tristar's high end Superbit Collection titles, and it's a good one to have chosen. The anamorphic widescreen picture, which is compatible with and completely fills the screens of 16x9 televisions, does the movie's gorgeous imagery justice. Colors are rich and the palette is as broad and clean as the picture quality itself. The audio, which is offered in both Dolby Digital and DTS 5.1 channel surround, is likewise rich and full, and the thunder and storm effects dance around the room most appropriately.
Extras are, as with the other Superbit titles, non-existent. Why? According to Columbia Tristar, "By reallocating space on the disc normally used for value-added content, Superbit DVDs can be encoded at double their normal bit rate while maintaining full compatibility with the DVD video format." We don't understand the technical stuff, but you can't deny the fantastic audio and video quality you get from the Superbit titles we've seen so far, and we'd rather have that than the extras (though once again we suggest to Columbia Tristar that they can have it both ways by releasing two disc sets).
Possibly the best Dracula movie, then, has been made into another outstanding example of the DVD species. We watched it on a 57 inch widescreen TV running a progressively scanned picture and listened to the DTS soundtrack and it was a wonderful home theater experience.
Bram Stoker's Dracula, the Superbit Collection, from Columbia Tristar Home Video
130 min. anamorphic widescreen (1.85:1), 16x9 television compatible, Dolby Digital and DTS 5.1 channel audio
Starring Gary Oldman, Winona Ryder, Anthony Hopkins, Keanu Reeves
Produced by Francis Ford Coppola, Fred Fuchs and Charles Mulvehill
Written by James V. Hart, Directed by Francis Ford Coppola