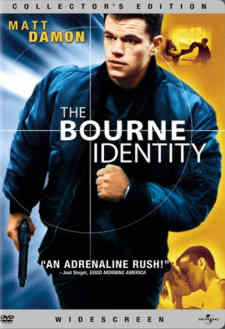 The Bourne Identity on DVD
This is one ripping yarn!
Matt Damon stars as, well, we aren't sure who he stars as when the movie begins. We first see him floating in the sea as if dead, with two bullets in his back.
But you can't keep a good man down and the movie needs to be longer than five minutes - and as it turns out the bullet wounds are Damon's character's least concern: he's also suffering from amnesia and remembers nothing about who he is or how he happened to be where he is. The only clue he has is a bank account number embedded in his hip (a pretty hip idea, that!), so he heads for Zurich to see what that account will tell him.
Along the way there - and at just about every step through the rest of the movie - he's attacked apparently without reason and because of that he also discovers that he's death on two legs, a human killing machine whether using his hands or whatever other weapon happens to be at hand.
The Swiss bank holds a safety deposit box in which there's a pile of money and multiple identifications. He chooses one (which happens to be the correct one) and starts heading to where that ID tells him is home: Paris.
But how do you get there when it seems that every law enforcement agency (among others) is trying to kill you? He hires a pretty girl (Franka Potente) to drive him to Paris in her Austin Mini (a real one, too, not that new pretender from BMW), which is about as nondescript as you can get.
Meanwhile, the audience finds out that Bourne is really a US government assassin and, since he's out of contact with them due to his amnesia, his bosses think he's gone renegade and send more agents after him to ensure the next time he's found floating he's really dead.
This movie is a real mind game, full of almost non stop action, a great car chase scene, and a lead character who, despite his brutal past, is clearly a guy you can like. And now that he's lost his mental baggage, he's determined to be a decent guy - if only all those people chasing him would give him a chance.
Adapted from Robert Ludlum's bestseller, The Bourne Identity starts off with a bang (figuratively at least) and never slows down longer than it takes the audience to catch its breath.
There are plenty of interesting plot twists, some lovely locations, and about as much violence as one could want - and yet while it's realistic it's never really gratuitous.
Director Doug Liman does a great job here, crafting a film that's long on detail and character, yet never cerebral or preachy - and with surprising humor thrown in along the way. Damon is very good as Bourne (do we sense a franchise here?), with enough physical presence to make his derring do believable, yet seasoned with enough humanity to also make his trained assassin human and vulnerable rather than just an unemotional robot. It's an interesting tightrope and Damon walks it well.
Potente is also very good as Marie, the "love interest" who starts off as a convenient paid chauffeur and ends up on the run, tarred by the same brush as Bourne.
The DVD is excellent, with one exception: it's available, separately unfortunately, in anamorphic widescreen and Pan&Scan versions under different cover. We recommend the widescreen one, which is what we received, for long term enjoyment. The picture quality is very good, indeed. The images are sharp, colors are bright and rich.
Audio is Dolby Digital 5.1 surround or DTS (hooray for the choice!) and is also excellent. There's good use of surround and the fidelity is such that you may be tempted to duck when some of the ordnance goes off around you.
You also get plenty of extras, including a feature commentary by director Doug Liman, and a decent production essay inside the box. There's also an alternate ending (which is terribly warm and fuzzy and was rightly deleted), some other deleted scenes, "the Making of The Bourne Identity," Total Access DVD ROM features, a music video by Moby.
One thing we don't like is a new trend by Universal to stick coming attractions at the beginning of the feature, like trailers in a movie theater. Fortunately, you can skip past them (they're also accessible via the menu), but when we hit "Play Movie" from the menu we want to go directly to the movie, not to trailers.
We really enjoyed "The Bourne Identity" and welcome good sequels. If they can keep up the quality, we think James Bond has some much-needed competition.
The Bourne Identity, from Universal Home Video
119 min. anamorphic widescreen (2.35:1) 16x9 TV compatible/ Pan&Scan (Sold Separately), Dolby Digital 5.1 and DTS Surround
Starring Matt Damon, Franka Potente, Chris Cooper, Clive Owen
Produced by Doug Liman, Patrick Cowley, Richard N. Gladstein,
Written by Tony Gilroy and William Blake Herron, Directed by Doug Liman