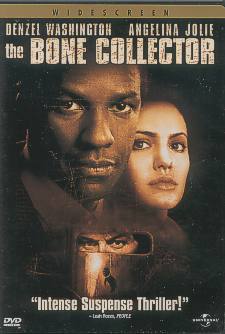 "The Bone Collector" on DVD
Skeleton Crew
Denzel Washington can't merely walk his way through his role as a top forensic cop in "The Bone Collector."
That's because Washington's "Lincoln Rhyme" character is mostly paralyzed and bed-ridden - but that doesn't stop him from having the top mind in his field.
Rhyme is more than a top cop; he's also a scholar in the field of forensics, the person to whom other cops turn when their investigations come up empty.
Then comes a series of grisly murders in which a subtle clue is left at the scene, and Rhyme's reason is enlisted to crack the case.
Angelina Jolie is a street cop brought into the world of forensics when Washington's character sees that she has a natural bent for the field. Rhyme "walks" her through the investigation, helping her hone her considerable but newfound skills, making her his hands, legs, eyes and ears as they try to bring the killer to justice.
As they close in on the perpetrator, Jolie figures out from the clues left at the previous scene who his next victim will be - and from then it's a race against time to see if she and her compatriots can catch the killer before the next dirty deed is done.
Washington's performance is very good as the brilliant mind trapped in a virtually useless body, and Jolie brings a nice touch of emotion to her cop's task of trying to bury her emotions in order to do the unpleasant job in front of her. Also along for the ride is Ed O'Neil as one of the apparently few competent cops on the case.
"The Bone Collector" is an intelligent thriller, never gross despite the grisly subject, and is quite engrossing. The 2.35:1 anamorphic widescreen DVD looks great, though the movie is set mostly during the evening hours and this causes a certain amount of understandably dark scenes that can be washed out by improper lighting in your home theater.
Audio is offered in Dolby Digital 5.1 and DTS on the same disc, which is a wonderful idea we'd like to see used more often if studios are going to insist on offering both audio alternatives.
Extras include a "Spotlight on location," and a feature commentary from director Philip Noyce. You also get production notes, cast/crew info, and a couple of minor DVD ROM features.
The Bone Collector, from Universal Home Video
129 minutes, Widescreen (2.35:1), Dolby Digital/DTS
Starring Denzel Washington, Angelina Jolie, Ed O'Neill, Leland Orser, Queen Latifah
Produced by Martin Bregman, Louis A. Stroller, Michael Bregman, Screenplay by Jeremy Iacone
Directed by Philip Noyce