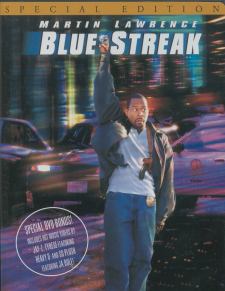 "Blue Streak" on DVD
A Real Cop Out
Martin Lawrence stars as an uncommon thief in this action comedy from director Les Mayfield.
Miles Logan (Lawrence) is in the middle of a high tech jewel theft when things go awry - forcing him to stash the big rock in an under construction building.
Flash forward two years and he's released from prison and goes back to the building in question to retrieve the rock. Much to his chagrin, said building is now home to the LAPD.
How to get back the stone? Logan passes himself off as a cop, intent on getting in and getting out again quickly - but things don't unfold as he'd planned.
He's forced to keep up his charade through increasingly complex and dangerous busts - fitting in so well (and using his "knowledge of the criminal mind") that he gains the confidence and respect of his "fellow officers."
We won't spoil the plot of what's essentially a pretty nifty action comedy. Suffice it to say that Lawrence ends up making the big bust, while reaching his personal goals at the same time.
Martin Lawrence is likeable and believable in his role and the supporting cast, led by Luke Wilson as his wet behind the ears "partner", also turn in good performances.
To be honest, we didn't expect too much when we went into this movie - but were pleasantly surprised. "Blue Streak" is an entertaining 94 minutes that's well worth seeing.
The dual layered DVD is in anamorphic widescreen and Pan&Scan and the digitally mastered picture is terrific. The audio, powered by a bass-filled musical soundtrack, is also first rate.
Columbia puts lots of extras onto the disc as well. You get a decent set of production notes, talent files, a couple of featurettes, and some music videos by the likes of Jay-Z, Tyrese featuring Heavy D, and So Plush.
Blue Streak, from Columbia Tristar Home Video
94 minutes, Widescreen (1.85:1)/Pan&Scan, Dolby Digital
Starring Martin Lawrence, Luke Wilson, Dave Chappelle, Peter Greene, and William Forsythe,
Produced by Neal H. Moritz, Written by Michael Berry & John Blumenthal and Steve Carpenter
Directed by Les Mayfield.