Bill & Ted's Excellent Adventure
Before Wayne's World, Baseketball, or even Dude, Where's My Car?, there was Bill & Ted's Excellent Adventure.
It's one of those classic comedies that has stood the test of time and entertained people for over a decade…though nobody is really quite sure why.
If you're unaware of the story (get out from under that rock!), it's about Bill & Ted (Alex Winter and Keanu Reeves), two really stupid guys who are on the verge of failing history. Fortunately, Rufus (George Carlin) is sent back through time to help them pass. He provides them with a time machine, so they can travel through time (crazy thing to do with a time machine, but…) and learn first hand what really happened at certain points in history.
You see, in the future, Bill & Ted's band, Wyld Stallyns, will put an end to world hunger and align the planets. It will become the basis of life and civilization.
And so begins Bill & Ted's excellent adventure.
The idea is clever, and just outrageous enough to work. The effects were undoubtedly good for the time, but look pretty cheesy by today's standards.
Of course, it's always nice to see Keanu Reeves in the role he was born for. Back when he played Ted, no one would dare call him a bad actor.
There's something about Bill & Ted's Excellent Adventure that is just laugh-out-loud funny. To this day, I haven't figured out what it is, I just know that I love the movie. Maybe it's because I'm a child of the 80's, maybe it's because I'm as stupid as the characters, or maybe it's just because it's damn funny.
Whatever the reason, this is a classic movie that would appeal to pretty much everyone.
The DVD is very average. It sports a very nice looking anamorphic transfer (2.35:1) with very good video quality, but the sound, on the other hand, just doesn't cut it. It is presented in 5.1 Dolby Digital, but never really sounds anything other than stereo. Not even great stereo, for that matter. Some of the time traveling scenes could have done well with some Dolby Digital surround effects, but it never quite does it.
The only extra on the disc is the extremely cheesy theatrical trailer.
MGM needs to give more old movies the special edition treatment. This is one movie that really deserves it.
Bill & Ted's Excellent Adventure, from MGM Home Entertainment
90 minutes, anamorphic widescreen (2.35:1) 16X9 enhanced, 5.1 Dolby Digital
Starring Keanu Reeves, Alex Winter and George Carlin
Produced by Scott Kroopf, Michael S. Murphy, Joel Soisson
Written by Chris Matheson & Ed Solomon
Directed by Stephen Herek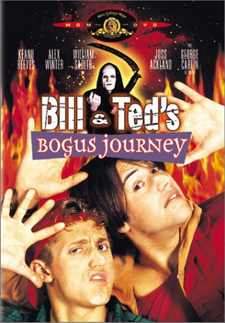 Bill & Ted's Bogus Journey
Bill & Ted's Bogus Journey is one of those rare sequels that is actually good.
It's by no means an Excellent Adventure, but by all means a worthy followup.
This time, Bill & Ted (Alex Winter and Keanu Reeves) are killed by the evil robot thems. The evil De Nomolos (Joss Acklund) isn't happy with how they've influenced the future, so he plans to do something about it.
Bill & Ted end up in hell. After experiencing their "own personal hell," they decide to challenge the Grim Reaper (William Sadler) for a chance to go back to the land of the living.
So, as any contest of biblical proportions would entail, they play Battleship. They find out it's actually the best two out of three. So they play Clue. Then find out it's best three out of five. And so on.
Eventually, the Reaper admits defeat and takes them to heaven, where they seek out a brilliant scientist dude to help them build good robot thems. God points them to Station, a pair of brilliant alien scientists. He builds them some robots, and Bill & Ted save the future -- and their girlfriends -- from the evil robot thems.
And, much like in the first movie, their fun-loving ways rub off on everyone they meet, including Death himself. Mr. Reaper even comes up with the Reaper Rap.
Bill & Ted's Excellent Adventure is one of the all-time classic comedies that stands the test of time and is still funny to this day. Bogus Journey, though to a lesser extent, is too. It succeeds where so many sequels fail, in that it creates a completely new story and comes up with completely new jokes. The air guitar thing may not be new, but it never gets old.
Plus, it's nice to see Keanu Reeves playing a role he's actually good in. It's too bad his career wouldn't allow him to continue playing Ted for his entire life.
Alex Winter and the supporting cast are all good as well.
I don't usually laugh out loud while watching a movie by myself, but classics like the Bill & Teds can do it for me.
So if you're a little bit immature, and not afraid to admit it, Bill & Ted are always most triumphant.
Unfortunately, the DVD isn't. When I first heard that the Bill & Ted movies were coming out on DVD, I was thoroughly excited. But MGM hasn't done much with this one. The 1.85:1 anamorphic widescreen is fuzzy and looks almost like the old VHS copies, except for the widescreen picture. The sound, apparently presented in 5.1 Dolby Digital, is just bad. That's all there is to it.
Extras include a 6-minute behind-the-scenes featurette, which is just a bunch of interviews. There are a few humorous moments, but it's not really much of an extra. There is also the original theatrical teaser and trailer, which, interestingly enough, are exactly the same.
A classic comedy that deserved a much better disc.
Bill & Ted's Bogus Journey, from MGM Home Video
98 min. anamorphic widescreen (1.85:1), 16x9 TV compatible, Dolby Digital 5.1
Starring Keanu Reeves, Alex Winter, William Sadler, Joss Ackland, Pam Grier
Produced by Scott Kroopf
Written by Chris Matheson and Ed Solomon, Directed by Peter Hewitt