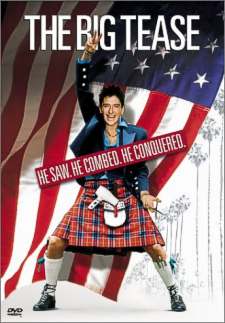 "The Big Tease" on DVD
A Tale of "Hairesy"
Warner Brothers' "The Big Tease" is a "fish out of water" tale in the tradition of such British films as "Bean." Unlike Bean, however, it's funny nearly all the way through. In fact, it's what "Bean" should have been but wasn't.
It's a charming movie that's full of good humor, the pursuit of excellence against incredible odds, and characters we can love and hate. There's also a bundle of cameos from a variety of stars and celebrities who obviously enjoyed the script and wanted to be a part of it.
Crawford Mackenzie is a Scot hairdresser who travels from Glasgow to Los Angeles to compete in the Platinum Scissors competition - the "world cup" of hairdressing. Along for the ride is a BBC-type and cameraman who are doing a documentary on Crawford. In fact, the movie is told from the point of view of the documentary camera and this makes it work even better than it already does.
Crawford arrives in La-La Land only to discover that his invitation was to be in the audience, not to compete - and the pencil necked bureaucrats running the show don't give a damn that he flew 9,000 miles to take on the best of the world.
Never to be put down or get depressed, Crawford sets out to jump through all the hoops necessary to qualify for the competition, only to find that they're still not going to let him "play" in the big leagues.
Naturally, he ends up competing and winning. While you never really suspect the film will end any other way, the lack of suspense doesn't bother you a whit. You really enjoy watching this indefatigable and good hearted man in his pursuit of the Platinum Scissors, and root for him all the way.
Craig Ferguson (who many will remember from "The Drew Carey Show") stars as Crawford, and he's a natural in the role. His Scots brogue sounds bang on, and you really believe in him. Ferguson also co-wrote and co-produced the film. He's wasted on Drew Carey - but that undoubtedly gives him the profile, cash, and credibility to go after other projects, like the marvelous "The Big Tease."
You really should see this movie - of which we'd never heard before the DVD showed up at our offices. It's a terrific satire on life in L.A. - told as can only be done by an outsider, as well as a genuinely warm and funny comedy.
The DVD is in widescreen (enhanced for widescreen TV's) and Pan&Scan on opposite sides. Audio is Dolby Digital. Audio and video quality are excellent. You really get "bugger all" for extras, though our review copy had a blank sheet of white paper inside the jacket - the purpose of which will remain forever a mystery.
The Big Tease, from Warner Home Video
87 minutes, Widescreen (1.85:1)/Pan&Scan, Dolby Digital
Starring Craig Ferguson, Frances Fisher, Mary McCormack
Produced by Philip Rose
Written by Sacha Gervasi & Craig Ferguson, Directed by Kevin Allen