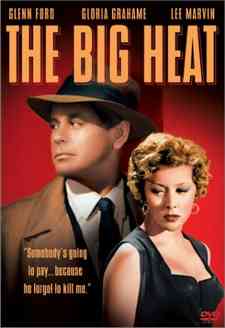 The Big Heat on DVD
Glenn Ford stars in director Fritz (Metropolis) Lang's film noir as an honest cop put through the wringer by criminals and "the system."
Ford is Police Sergeant Dave Bannion, a homicide cop investigating the suicide of a fellow officer. Suddenly he's pulled from the case and told, in effect, to leave it alone.
He doesn't, of course, which brings The Big Heat onto him from his superiors and others who don't want him poking into affairs that could prove embarrassing to them.
Then an explosion that was meant for him kills his beloved wife and when it becomes obvious that the police force isn't working particularly hard at finding out whodunit, he resigns from the force and continues the case as a private citizen.
It's a tale of corruption in high places, an organized and ruthless gangland boss (Alexander Scourby) and his tough and mean enforcer (Lee Marvin), and of justice done in the end - but with unexpected help.
The cast is outstanding, especially Ford but also including Gloria Grahame as Marvin's abused girlfriend (you may remember her as Ado Annie in Oklahoma! or Violet in It's a Wonderful Life), and Jeanette Nolan and Jocelyn Brando, but it's the gritty script and Lang's marvelous black and white direction that really puts the icing on this DVD cake.
Lang, who became famous for his innovative filmmaking in the silent cinema days, makes really great use of shadows in this film, imparting a claustrophic sense of impending trouble throughout various scenes. Then, likely as not, it's a red herring - though not always! A great suspense tool…
The violence is subdued by today's standards, yet Lang still manages to make vicious acts in the film startle the viewer and make you cringe. It's a masterful film by a master director, and a wonderful example of what became known as "film noir."
The digitally mastered DVD does the film justice. It's presented in its original full screen theatrical aspect ratio of 1.33:1, which means it fits "old fashioned" TV's fine but will need to be stretched or zoomed to fit today's widescreen TV's. The black and white picture is razor sharp, with great detail and this works to enhance the shadow and contrast-filled cinematography.
The audio is Dolby digital mono and it isn't great by today's standards (oh to have some of the sounds recorded with today's digital technology!) it fits perfectly with the film and its era.
Extras are extremely limited, unfortunately. All you really get is some vintage advertising and some theatrical trailers. It would have been nice to see Columbia Tristar include their typical liner note essay and some cast/crew bios/filmographies, but they didn't.
Still, the movie is what counts and this one is a great one!
The Big Heat, from Columbia Tristar Home Video
89 min. black and white, full screen (1.33:1), not 16x9 TV compatible, Dolby Digital mono
Starring Glenn Ford, Gloria Grahame, Jocelyn Brando, Alexander Scourby, Lee Marvin, Jeanette Nolan
Produced by Robert Arthur
Written by Sydney Boehm, Directed by Fritz Lang