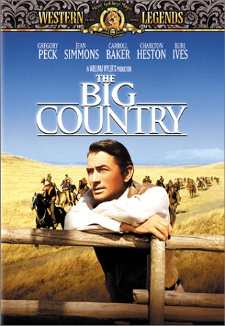 "The Big Country" on DVD
Wyler's Wild West
MGM and William Wyler's widescreen epic before Ben-Hur is a soap opera set against the sweeping vistas of the Old West.
Starring (and co-produced by) Gregory Peck, and with a marvelous supporting cast, it has all the Western clichés you could want, except that they never really end up being cliché here.
Peck is a stranger in a strange land, a wealthy merchant sea captain who arrives at the spread of his fiancée (Carroll Baker) only to find himself in the middle of a war between her father (Charles Bickford) and a poorer but equally strong-willed rancher (Burl Ives, in an Oscar-winning performance).
Peck's Jim McKay is a strong and silent type, a successful man comfortable with who he is and not about to be pressured into performing like a clown for the locals - who write him off as a dude with few or no redeeming qualities. Even his fiancée begins to question his manhood after he refuses to be goaded into a useless fight with her father's head man (Charlton Heston), which causes Jim to question her commitment to him.
Despite its 2.75 hour running time, "the Big Country" moves along at a good pace, never bogging down in even its most soap opera-like moments. In the end, it delivers as a Wyler movie should, and with an epic look and feel that actually surpasses the source material.
The cast is outstanding. Peck, Baker, Bickford, Heston, Ives and Chuck Connors are all excellent, as is Jean Simmons, the "attractive school marm" who's a real friend to all her neighbors and a strong character to boot. The locations are beautiful and the shots are BIG, so the movie should be experienced on as large a screen as possible.
The DVD is in widescreen, 16x9 TV compatible, with Dolby Digital mono sound, and it look glorious. It could probably look even better with a new remastering, but that would be gravy. The audio quality is okay. It would have been interesting to see a new Dolby Digital 5.1 job done on it (as Paramount did so well on its DVD versions of the classic Star Trek series), but that's okay.
The only "extra" is the theatrical trailer.
The Big Country, from MGM Home Video
167 min. widescreen (2.35:1), 16x9 compatible, Dolby Digital mono
Starring Gregory Peck, Carroll Baker, Charlton Heston, Jean Simmons, Burl Ives
Produced by Gregory Peck and William Wyler
Written by James R. Webb, Sy Bartlett and Robert Wilder, Directed by William Wyler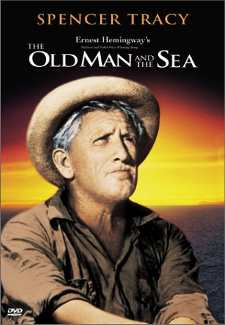 The Old Man and the Sea
The liner notes say that Ernest Hemingway himself pushed for Spencer Tracy to play the Old Man in the movie adaptation of his classic novella, and he was certainly right.
Most of the film features Tracy alone in a small skiff, and the man never lets down his performance for an instant.
The Old Man is a Cuban fisherman down on his luck. He hasn't caught a fish in nearly three months, but he keeps on trying. Then one day he hooks "the mother of all marlin," and his strength, experience and resolve are put to the ultimate test as he tries to land the huge fish and bring it home with him.
Who'd have thought that a simple story of some old fart going fishing could keep your attention for an hour and a half? Yet that's exactly what "The Old Man and the Sea" does. Tracy, of course, is outstanding as the Old Man. He's completely believable, even when spouting stilted lines. His performance brought him one of his many Oscar nominations. He didn't win, but that would only be because the Academy thought David Niven did a better job in "Separate Tables."
The big problem with the DVD is the video and audio quality. Put bluntly, they stink. The film is presented in widescreen (16x9 compatible) and Pan&Scan versions, but they really needed to give the film a good cleanup or, better still, a new mastering job. The picture looks hardly better than VHS and the audio (which is only mono anyway) is about the same.
Extras include an interesting behind the scenes documentary and the trailer.
The Old Man and the Sea, from Warner Home Video
86 min, widescreen (1.85:1), 16x9 compatible, Dolby Digital Mono
Starring Spencer Tracy
Produced by Leland Hayward
Written by Peter Viertel, Directed by John Sturges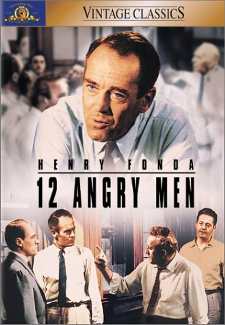 12 Angry Men on DVD
A dozen guys locked in a jury room arguing about the guilt or non-guilt of a defendant may not seem like much on which to hang an entire movie, but 12 Angry Men is a riveting flick nonetheless.
Henry Fonda is the lone voice voting not guilty at the beginning. He doesn't know the defendant, an ethnic kid, is innocent - or guilty - but he feels he has reasonable doubts, and that's all that's required.
A voice of reason and moderation, Fonda takes the initial slings and arrows from the other eleven, some of whom figure the kid's guilty just because of who he is, others of whom just want to get the verdict out of the way so they can get on with their lives.
The deliberations are usually calm, but peppered with emotional outbursts and arguments as the most "dug in" of the guilty voters find their pet arguments being examined and, if not rejected, then at least questioned enough to allow for a reasonable doubt.
Co-starring with Fonda, who is excellent as the voice of reason, are Lee J. Cobb, Ed Begley, E.G. Marshall, Jack Klugman, Jack Warden, Martin Balsam, John Fiedler, Edward Binns, Joseph Sweeney, George Voskovec, and Robert Webber. All play their characters excellently, representing different backgrounds and facets of humanity. Their interaction is electrifying.
So sure, it's a movie about a dozen guys locked in a room, but Sidney Lumet's film is much more than that. Against the background of the deliberations around a teenager accused of having killed his father is a riveting morality play that teaches us to look below the surface, to learn, and to grow.
Nominated for four Oscars, including Best Picture, 12 Angry Men is a true Hollywood Classic.
The black and white DVD is presented in widescreen, but it isn't enhanced for 16x9 TV's. This is a shame, but it could be because the original aspect ratio of 1.66:1 is somewhere between TV's "Full screen" and the 1.85:1 (16x9) used commonly in widescreen movies. Picture and Dolby Digital mono audio quality are fine considering the source material.
The only "extra" is the theatrical trailer.
12 Angry Men, from MGM Home Video
96 min, widescreen (1.66:1), not 16x9 compatible, Dolby Digital mono
Starring Henry Fonda, Lee J. Cobb, Ed Begley, E.G. Marshall, Jack Klugman, Jack Warden, Martin Balsam, John Fiedler, Edward Binns, Joseph Sweeney, George Voskovec, and Robert Webber
Produced by Henry Fonda and Reginald Rose
Written by Reginald Rose, Directed by Sidney Lumet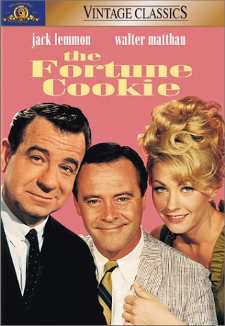 The Fortune Cookie on DVD
Billy Wilder's tale of a wannabe insurance scam isn't one of his best pictures, but it's hard not to like a Jack Lemmon/Walter Matthau pairing any time.
Matthau won an Oscar for his performance as "Whiplash Willie," an unscrupulous ambulance chaser of a lawyer whose brother in law Harry Hinkle (Lemmon) gets injured while on the job as a sidelines cameraman at a Cleveland Browns game.
Willie smells dough, and browbeats Harry into letting him launch a million dollar lawsuit for his non-existent injuries. This means Harry has to play the part to the hilt, lest the insurance company, its lawyers, and the private investigators they've hired to smoke out a fraud find out the criminal truth.
Meanwhile, the halfback (Ron Rich) who knocked Harry over the stadium's tarpaulin is devastated by what he's apparently done. He becomes like a mother hen to the supposedly convalescing Harry, in the meantime letting his football duties and skills atrophy to the point where he isn't much use to the team. Then, he gets into a bar room brawl and gets suspended.
Meanwhile, Harry's ex-wife (Judi West) smells a buck to be made and comes back to nurse him to health.
The rest, as they say, is history.
The cast is excellent, as might be expected, and the chemistry between Lemmon and Matthau is the stuff of legends. Overall the film packs into it a few good laughs, too, so at worst you're in for a relatively entertaining couple of hours in the home theater.
The DVD is in black and white, but with its original widescreen image - 16x9 TV compatible - preserved. Picture quality is good, but not great. The audio is Dolby Digital mono and is also good, but not great.
The only "extra" is the theatrical trailer and a "fact from the vault" on the back of the box.
The Fortune Cookie, from MGM Home Video
126 min, black and white, widescreen (2.35:1), 16x9 TV compatible, Dolby Digital mono.
Starring Jack Lemmon, Walter Matthau, Ron Rich, Cliff Osmond and Judi West
Written by Billy Wilder and I. A. L. Diamond,
Produced and directed by Billy Wilder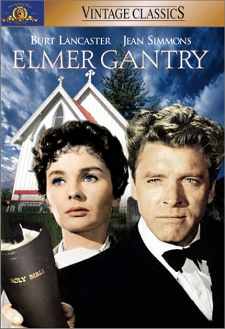 "Elmer Gantry" on DVD
Tent Show King
Elmer Gantry is a boozer, a womanizer, and a gambler. He's a travelling salesman, and he believes deeply in God - it's just that he's all too human.
As played by Burt Lancaster, Gantry's a widely smiling glad handing person who discovers his true calling, and the best use of his salesman's talents, when he crosses paths with tent-show revivalist Sister Sharon Falconer (Jean Simmons). He wriggles his way into her organization and her heart, becoming one of the main draws of the travelling show.
Together, Elmer and Sharon build the organization in influence and wealth and, despite controversies along the way, they really do believe in what they're doing. Then an old flame who Elmer once screwed royally, in more ways than figuratively, turns up and threatens to bring down everything for which they've worked.
This is a pretty simplistic overview of what's actually a very good story. The movie starts off with a disclaimer about the controversial subject matter, but the religious and sexual subjects all seem rather mainstream in the 21st century.
Lancaster won an Oscar for his wide eyed and open mouthed performance, and he probably deserved it. Shirley Jones also won (for best supporting actress) for her part as the jilted ex-flame who's now a prostitute, though Jean Simmons (despite being a real shining light here ) was overlooked. The script, written by director Brooks, also won an Oscar.
There's also an outstanding supporting cast that includes Dean Jagger, Arthur Kennedy and singer Patti Page.
The DVD is presented in its original widescreen aspect ratio of 1.66:1, and is not enhances for 16x9 TV's. If you have a zoom setting it'll work well, however. The picture quality is very good, and the Dolby Digital mono audio is also good, though not outstanding. The only "extra" is the theatrical trailer.
Still, this is classic Hollywood at its best, with wonderful performances, and a great script with layers upon layers of characterization in it.
Elmer Gantry, from MGM Home Video
147 min. widescreen (1.66:1) not 16x9 compatible, Dolby Digital
Starring Burt Lancaster, Jean Simmons, Dean Jagger, Arthur Kennedy, Shirley Jones, Patti Page
Produced by Bernard Smith
Written and Directed by Richard Brooks.